· The crew made up of José Luis Pérez, Roberto Simón, Miguel Larrán and Javier Pérez won the one-design league organized by the Monte Real Yacht Club
· The regularity of results obtained in the twelve regattas held in the four days of the championship allowed Maija to always stay in the lead and take the final victory
· El Cansino skippered by Fernando Yáñez and Santiago Estévez's Spaco won silver and bronze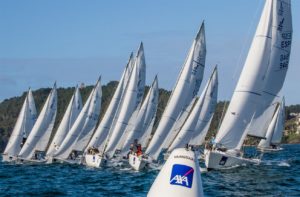 The Maija of José Luis Pérez, Roberto Simón, Miguel Larrán and Javier Pérez won this afternoon in Baiona the latest edition of the AXA J80 Autumn League, held since last October in the Bay of Baiona.
The regularity of results that the Monte Real monotype achieved in the twelve races held over four days allowed it to always stay in the top positions and take the final victory.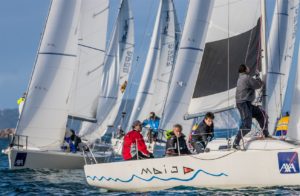 They started seconds behind Namasté after the first round, but once they got to the top spot, there was no crew capable of bringing them down from the top. They achieved the leadership on the second day, revalidated it on the third and reached the final with clear aspirations to the title.
This Saturday they also came out convinced, and their rivals could do little to snatch the announced victory from them. The Maija maintained the regularity for which it was characterized throughout the league and signed two third and fourth in the sets.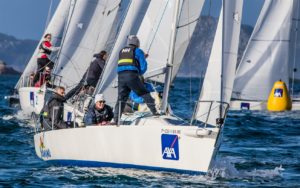 He finished the league with 22 points, 11 behind Fernando Yáñez's Cansino who, with 33 points, finished second. The bronze medal in the competition, with 36 points, went to Santiago Estévez's Spaco .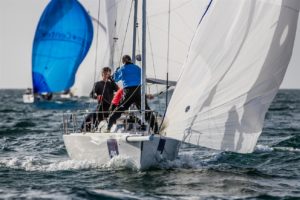 The New Moon by Juan Luis Tuero and the Namasté by Luis de Mira were fourth and fifth respectively, with 39 and 42 points; and completed the classification Pazo de Cea de María Campos, who today won the third test held; the Miúdo by Nico Domínguez, with a crew of students from the MRCYB Sailing School; the Jaime Barreiro's Petrilla , who with Javier de la Gándara on board was able to secure first place today in one task; the Mondo by Bernardo Macedo; the SND Cormorant by Francisco Martínez; the Ferralemes by Jaime García and the Oh Carmela by Juan Martínez Pazó.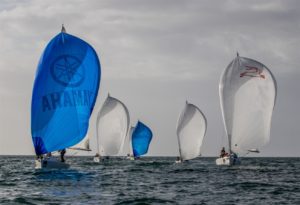 Once the competition in the water was over, the Monte Real Club de Yates, organizer of the championship, hosted the awards ceremony for the winners. The winners of the last edition of the one-design league received their trophies at a dinner attended by the entire fleet, members of the club's board of directors and representatives of AXA, sponsor of the championship.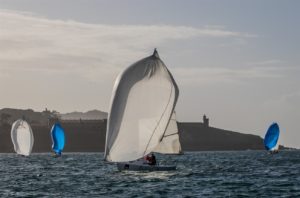 Putting an end to the Autumn League, Monte Real closes the 2019 sports season, in which it organized a total of 11 competitions, two of them special and exclusive for the J80 class. In 2020, the monotypes will once again have a special role, with their participation in the Winter League starting next January being the ones in charge of inaugurating the calendar.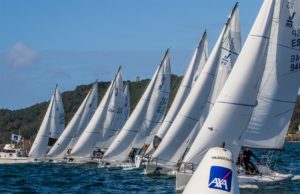 FINAL OVERALL CLASSIFICATION
AXA J80 AUTUMN LEAGUE MONTE REAL YACHT CLUB
1) MAIJA · JOSE LUIS PÉREZ VÁZQUEZ · 22 POINTS
2) TIRED · FERNANDO YÁÑEZ · 33 POINTS
3) SPACO SANTIAGO ESTÉVEZ 36 POINTS
4) NEW MOON JUAN LUIS TUERO 39 POINTS
5) NAMASTE LUIS DE MIRA 42 POINTS
FINAL CLASSIFICATION LEAGUE AUTUMN AXA J80