· The crew led by José Luis Pérez knew how to read the sea and wind conditions recorded this afternoon very well and climbed to the top of the standings after the second stage of the league
· El Cansino by Fernando Yáñez was on the verge of becoming the leader despite having achieved the best results of the day with two first places and one second
Luis de Mira's Namasté, which was at the head of the Monte Real league, fell to fourth position behind Juan Luis Tuero's Luna Nueva, which is third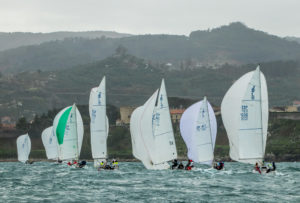 Maija snatched the leadership of the AXA J80 Autumn League this afternoon from Luis de Mira's Namasté, who had been at the top of the standings since the opening day of the competition.
The crew, led by José Luis Pérez, knew how to read very well the sea and wind conditions that occurred this afternoon in Baiona, with a northwesterly wind almost north, of about 12 knots of intensity, and quite a lot of waves; and managed to prevail over the rest of the J80 who are competing for the one-design league.
Since the competition organized by the Monte Real Club de Yates began with the sponsorship of AXA Seguros, the Maija is one of the most regular J80, also obtaining very good marks in all the tests.
In the 6 races held to date, José Luis Pérez's men managed to cross the finish line always first or second, except on one occasion, when they finished sixth. The entry into play today of a discard allowed the crew to eliminate that bad result from the score and place themselves at the head of the provisional classification.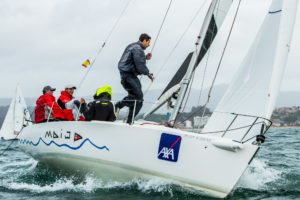 The other crew that is standing out above the rest in this AXA J80 Autumn League, although in a more irregular way than the Maija, is the Cansino, skippered by Commodore del Monte Real, Fernando Yáñez. In today's session, after signing two first and a third, he managed to climb two steps in the classification, rising from fourth to second place.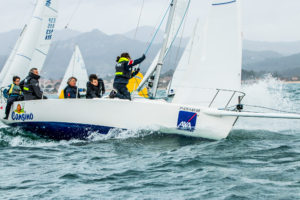 In the third place on the provisional podium are Juan Luis Tuero's Luna Nueva, who had already held the bronze position since the first day.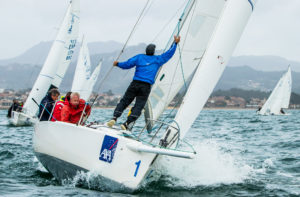 Luis de Mira's Namasté, which came first, fell to fourth position; and in the fifth the Spaco de Santiago Estévez is maintained.
The AXA J80 Autumn League, organized by the Monte Real Club de Yates with the sponsorship of AXA Seguros, continues on November 23 with the third and penultimate day of tests, in which the one-designs with aspirations for the podium will have to make an effort to consolidate positions in the highest positions of the classification.
AXA J80 AUTUMN LEAGUE MONTE REAL YACHT CLUB
PROVISIONAL CLASSIFICATION (TOP 5) AFTER THE SECOND DAY
1) MAIJA JOSE LUIS PÉREZ VÁZQUEZ 8 POINTS
2) TIRED · FERNANDO YÁÑEZ · 10 POINTS
3) NEW MOON JUAN LUIS TUERO 12 POINTS
4) NAMASTE LUIS DE MIRA 18 POINTS
5) SPACO SANTIAGO ESTÉVEZ 22 POINTS