· The one-design competition organized by the Monte Real Yacht Club with the sponsorship of AXA Seguros resumes regattas in the bay of Baiona this Saturday
· To the fleet of sailboats that participated in the opening day held 15 days ago, the SND Cormorán, skippered by Francisco J. Martínez, joins the second stage
· Namasté by Luis de Mira is at the top of the classification followed by Maija by José Luis Pérez Vázquez and Luna Nueva by Juan Luis Tuero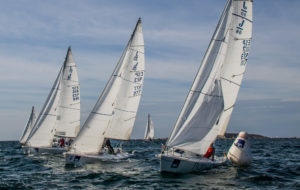 Tomorrow, Saturday, the AXA J80 Autumn League returns to the bay of Baiona, which resumes the regattas after two weeks off since the opening day was held on October 26.
The fleet of sailboats participating in the one-design competition organized by the Monte Real Yacht Club with the sponsorship of AXA Seguros will be joined on this occasion by the SND Cormorán, skippered by Francisco J. Martínez.
Thus, there will be a total of 12 J80s that will race this Saturday in Baiona, on a day that will be marked by weather instability. Although the day will dawn very bleak, with rain and a shifting wind, forecasts suggest that after three o'clock, the scheduled time for the start of the tests, the showers will cease and a northwesterly wind of between 14 and 18 knots will set in.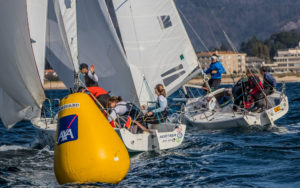 If the forecast is fulfilled, the J80 fleet would have the ideal conditions to compete in the three races that the regatta committee hopes to be able to start and complete successfully.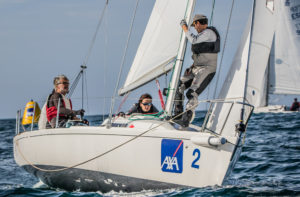 Luis de Mira's Namasté is the boat that leads the competition after the opening day, followed by José Luis Pérez Vázquez's Maija and Juan Luis Tuero's Luna Nueva.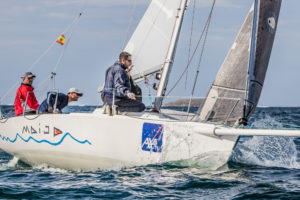 AXA J80 AUTUMN LEAGUE MONTE REAL YACHT CLUB
PROVISIONAL CLASSIFICATION (TOP 5) AFTER THE FIRST DAY
1) NAMASTE LUIS DE MIRA 6 POINTS
2) MAIJA · JOSE LUIS PÉREZ VÁZQUEZ · 9 POINTS
3) NEW MOON JUAN LUIS TUERO 11 POINTS
4) TIRED · FERNANDO YÁÑEZ · 12 POINTS
5) SPACO SANTIAGO ESTÉVEZ 13 POINTS