· The one-design competition organized by the Monte Real Yacht Club celebrates its penultimate day tomorrow, Saturday
· José Luis Pérez's Maija is the leader followed closely by Fernando Yáñez's Cansino and Juan Luis Tuero's Luna Nueva
On the provisional podium, the top three finishers and contenders for the title are within a margin of just 6 points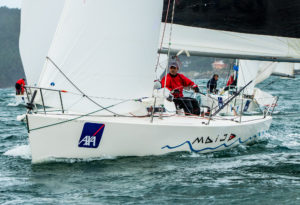 The AXA J80 Autumn League organized by the Monte Real Club de Yates with the sponsorship of AXA Seguros enters its final stretch tomorrow, Saturday, with the celebration of the penultimate day of tests.
Starting at three in the afternoon, the bay of Baiona will host the dispute of three new windward-leeward regattas in which the J80 fleet will try to sign its best results before the imminent end of the competition.
José Luis Pérez's Maija, one of the most consistent J80s in the evolution of the league, is in the lead, closely followed by Fernando Yáñez's Cansino and Juan Luis Tuero's Luna Nueva. With 8, 10 and 12 points respectively, they make up a tight provisional podium separated by a margin of just 6 points.
In fourth and fifth position, at a greater distance, are Luis de Mira's Namasté, with 18 points; and the Spaco de Santiago Estévez, with 22.
The penultimate stage of the AXA J80 Autumn League will take place, if the forecasts hold true, on a very cloudy day with a northwesterly wind between 10 and 14 knots, with a tendency to drift towards the west. At the head of the regatta committee, designing the course and controlling the evolution of the tests, will be Fernando Giraldo.