Javier de la Gándara's Okofen reaffirmed this Saturday in Baiona its leadership in the Baitra J80 Winter League organized by the Monte Real Club de Yates
· The sailboat signed a first and a second place in the quarters of the third day and after discarding its worst result it separates from its direct rivals
· El Alboroto and El Marías will arrive in second and third position on the fourth and penultimate day that will be held on May 15
Javier de la Gándara's Okofen maintains its dominance over the J80 that compete in the Baitra Winter League of the Monte Real Club de Yates. The sailboat led by the ocean navigator not only reaffirmed its leadership in the competition this Saturday, but also managed to further separate itself from its rivals in the ranking.
With a first and a second place in the partials of the third day held this Saturday in the bay of Baiona, and after ruling out his worst result, the Okofen is 4 points behind its most direct competitor, the Uproar by Juan Carlos Ameneiro who is second with 12 points. Marías de Manel Marías closes the provisional podium with 17 points.
Okofen achieved this new victory on a complicated day due to the wind, which had a hard time picking up intensity. The first test that was started, with a slightly shorter route than usual so as not to risk too much, had to be canceled because the wind, which had started from the east with little force, fell completely, leaving the measurements to zero .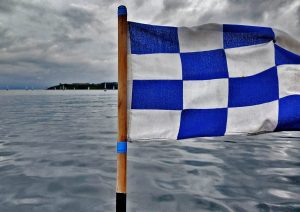 Turned into an oil pond, the stage was announced as very complicated to hold a race, but the regatta committee did not give up and kept the sailboats in the water for some time hoping to give them at least one more start.
Finally he succeeded with a north wind of about 6 knots on average, with which the fleet was able to play up to two tests, the fifth and sixth so far in the competition. In both, the sailboats made the usual course, a windward leeward double turn; and with the last one, which the committee decided to cut to ensure their final, they were able to eliminate their worst result so far, something that made the classification dance.
There were some notable jumps, both up and down. The Cansino de Fernando Yáñez, a regular on the provisional podium, lost the third position he had brought from the previous day and fell to fourth; and La Galera, by Miguel Fernández, from the Real Club Náutico de A Coruña, signed the most spectacular climb, from tenth to fifth position, something he achieved thanks to his good performance this Saturday, with a first and fourth place in the partial .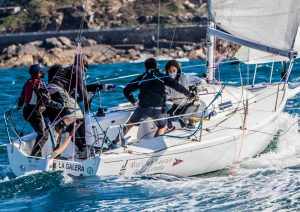 The next day, fourth and penultimate of the Baitra J80 Winter League organized by the Monte Real Club de Yates will be held on May 15.
BAITRA J80 WINTER LEAGUE MONTE REAL YACHT CLUB
Classification after the third day held on April 10
1. OKOFEN · JAVIER DE LA GANDARA · 8 POINTS
2. ALBOROTO · JUAN CARLOS AMENEIRO · 12 POINTS
3. MARÍAS · MANUEL MARÍAS · 17 POINTS
4. TIRED · FERNANDO YÁÑEZ · 22 POINTS
5. LA GALERA · MIGUEL FERNÁNDEZ · 24 POINTS
6. MAIJA · JOSE LUIS PÉREZ · 34 POINTS
7. IFACLINIC.COM JOAO NUNO ALLEN 37 POINTS
8. SPACO SANTIAGO ESTÉVEZ 37 POINTS
9. DUE · RAFAEL BLANCO · 43 POINTS
10. FERRALEMES · R. GARCIA · 44 POINTS
11. NEW MOON JUAN LUIS TUERO 45 POINTS
12. SDN CORMORÁN · FRANCISCO J. MARTÍNEZ · 46 POINTS
13. NAMASTE · LUIS DE MIRA · 47 POINTS
14. PETRILLA JAIME BARREIRO 63 POINTS
15. CEA MANOR IAGO CARBALLO 77 POINTS
16. LUXOCONF JEAN CLAUDE SARRADE 78 POINTS
17. MIUDO IGNACIO SALGUEIRO 81 POINTS
18. MONDO BERNARDO MACEDO 95 POINTS