· The young Balearic athlete sealed his first participation in the Olympic Games with the bronze medal in the Finn class at Tokyo 2020
· With the Enoshima Cardona medal, he added one more line to a sports curriculum that includes victories in several European Championships
· The Terras Gauda National Sailing Awards gala will be held on September 4 in Baiona as part of the 36th Prince of Asturias Trophy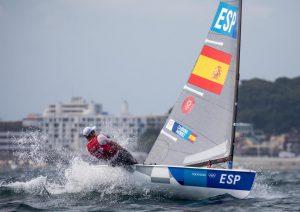 He was the youngest of the Spanish team and was the last to join the squad of sailors who attended Tokyo 2020 representing Spain, but neither one thing nor the other prevented him from achieving his long-awaited dream of hanging an Olympic medal around his neck.
At just 23 years old, the Balearic athlete Joan Cardona, signed one of the great successes for Spanish sailing in Enoshima with his bronze and the echo of that victory has allowed him to be the protagonist of multiple tributes since his return from the Japanese country.
The next one will be received on September 4 at the Monte Real Club de Yates de Baiona (Galicia), where the gala of the Terras Gauda National Sailing Awards will be held, in which Cardona will collect a new recognition, that of best Olympic sailor.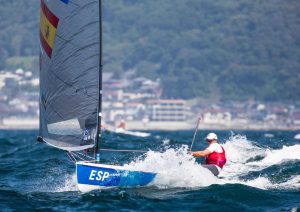 It will be one more line for a sports curriculum that Cardona began to write from the Mahon Maritime Club when he was just 6 years old, when his father instilled in him his passion for sailing. He debuted at the age of 14 as the youngest of the Princesa Sofía Trophy and his evolution has been constant since then.
With a lot of training, perseverance and determination, little by little he rose in the rankings of the international events he attended and in his last major competitions prior to the Olympic Games he won two golds (2019 and 2021 U23 European Championships) and two silvers (2021 European and World Championship).
He added podiums in some preliminaries that predicted the success that Cardona finally managed to make a reality in Enoshima with Finn's bronze medal. "I have always been very clear that I wanted to do this in my life and I did not see myself in any other way; I have left many things aside, giving priority to sailing because it was my goal and I wanted to reach this day, make this dream come true"declared the Balearic after having fulfilled his childhood dream.