· Támara Echegoyen and Paula Barceló will receive one of the National Sailing Awards on September 4 in Galicia for their brilliant career
· The Galician and the Balearic will be distinguished after having achieved the 49er FX world championship and more recently an Olympic diploma in Tokyo 2020
The gala of the National Sailing Awards will be organized one more year by the Monte Real Club de Yates de Baiona with the sponsorship of Terras Gauda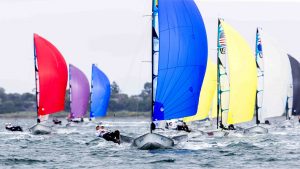 The Galician Támara Echegoyen (Ourense, 1984) and the Balearic Paula Barceló (Palma de Mallorca, 1996) will receive the Terras Gauda National Sailing Award for the best women's team on September 4 in Baiona (Galicia).
The athletes will be honored for their brilliant careers and recent successes, including gold at the 49erFX world championship, achieved in February 2020 in Geelong (Australia); and the Olympic diploma they got just a few weeks ago at the Tokyo 2020 Games.
The Japanese Olympics were the third in a row for the already veteran of the Echegoyen Games (Gold in London 2012 together with Ángela Pumariega and Sofía Toro -in Elliot 6m- and Olympic Diploma in Rio 2016 together with Berta Betanzos -in 49erFX-) and the first for the young rookie Barceló, and despite having been on the verge of the Olympic medal, both showed their full potential as a team in Enoshima.
Echegoyen and Barceló have been sailing together for just 3 years, after the Spanish Sailing Federation made a selection of athletes to assemble Támara's team when she was still participating in the Volvo Ocean Race. Although they experienced a reverse start to the usual (teams usually grow first and then choose a boat), the truth is that the rapport between the two emerged very soon and the Galician-Majorcan tandem, trained by the former youth world champion Víctor Payá, started to show results.
Hanging from a 49er (Olympic boat since Sydney 2000 weighing 130 kilos, almost 5 meters long, 2.90 wide and with three sails -main, jib and gennacker-), under the direction of Echegoyen as skipper and with the speed from Barceló as a crew member; the team achieved an Olympic place in Enoshima, became world champions in Australia and since then has not dropped from seventh place in all the events in which they participated, also being sixth in the world ranking. Their last great achievement: the Olympic diploma with which they returned from Tokyo.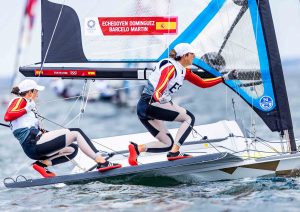 The National Sailing Award that both will receive next September in Galicia will be the first for Barceló and the fifth for Echegoyen, who in 2012 received the award for the best pre-Olympic team, in 2013 for the sailor of the year, in 2016 for the best team of women's regatta and in 2018 it was in charge of collecting the distinction awarded to MAPFRE as the best regatta team for its participation in The Ocean Race.
The gala of the Terras Gauda National Sailing Awards will be held at the Monte Real Club de Yates (Baiona), on the night of Saturday, September 4, within the framework of the 36th Prince of Asturias Trophy, which will be held on the 3rd, 4th and 5. Over the next few days, the names of the rest of the sailors and award-winning teams will be revealed.