· The Monte Real Club de Yates closes its 2019 season with the celebration of 4 days of regattas for J80 monotypes
· The bay of Baiona will be the venue for a test program in which up to 12 tasks are expected to be held
· The first league date will be this Saturday from three in the afternoon with a good wind forecast for the participating fleet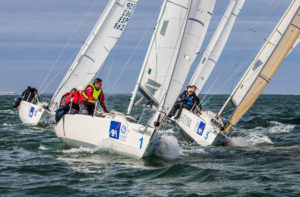 Baiona hosts this Saturday from three in the afternoon the first day of the AXA J80 Autumn League, the last round of the sports season of the Monte Real Club de Yates in this 2019. The Baionese club closes its competitions of the year with the celebration of 4 regatta days for J80 sailboats, a class for which it has been betting for years.
With a fleet of eleven sailboats in contention, the league will start without a clear favorite on the water, since the winner of the last two editions, Javier de la Gándara from Vigo, will be absent on this occasion as he finds himself fine-tuning the boat ahead of the 2020 season.
The participation of the rest of the crews that completed the podium in 2018 is expected: the Marías Casas do Telhado of the Portuguese Manuel María Cunha, who will be second; and Luna Nueva by Asturian Juan Luis Tuero, who won the bronze.
Together with them we will see regulars from the highest positions in the J80 leagues, such as Commodore del Monte Real's Cansino, Fernando Yáñez; the Namaste by Luis de Mira; the Maija de Iñigo Alzueta or the Pazo de Cea, among others. Two new boats will join them in this new edition of the autumn competition: the Petrilla, from Sanxenxo, with Jaime Barreiro at the helm; and the Spaco, by Santiago Estevez.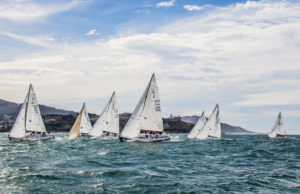 Directing everything on the water, at the head of the regatta committee, will be Fernando Giraldo, who will be in charge of designing the test field based on a weather forecast that announces winds from the south southwest of between 11 and 12 knots with peaks of up to 18 knots at times Good wind conditions, without a doubt, for the dispute of the three sleeves foreseen in the inaugural program.
AXA J80 FALL LEAGUE 2019
Saturday, October 26 15:00 First day of regattas
Saturday, November 9 · 3:00 p.m. · Second day of regattas
Saturday, November 23 · 3:00 p.m. · Third day of regattas
Saturday, November 30 · 3:00 p.m. · Final day of regatta
Saturday, November 30 20:30 Awards ceremony – dinner