Skippered by Luis de Mira, Namasté was placed at the head of the provisional classification of the Monte Real one-design league
José Luis Pérez Vázquez's Maija and Juan Luis Tuero's Luna Nueva were second and third respectively
· The AXA J80 Autumn League will hold three more days throughout the month of November
Namasté became the first leader of the AXA J80 Autumn League this afternoon after winning the opening day of the one-design competition that Monte Real Club de Yates, sponsored by AXA Seguros, will hold until the end of November.
The sailboat, skippered by Luis de Mira, won the victory after signing a first, a third and a second in the three tests with windward-leeward format of double lap that were disputed inside the Bay of Baiona, in two different regatta fields.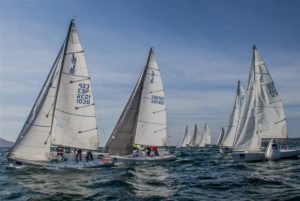 The first test was, without a doubt, the most complicated due to the instability of the wind, which continuously rolled, rose and fell, and even disappeared at times. Given the situation, the race committee wisely decided to move the test field and move it further out, where they encountered a southwesterly wind with an intensity of between 10 and 12 knots.
The new scenario made it possible to celebrate the other two tests scheduled in the program, not exempt from some role and some drop in intensity, which in any case did not force the field to be modified again. The fleet sailed more evenly, with very close entries, which even generated occasional protests that were resolved without problems.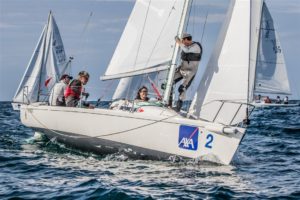 Luis de Mira's Namasté, with a somewhat different crew than the one it maintained throughout the 2019 regatta season, managed to beat the rest of the fleet with 6 points.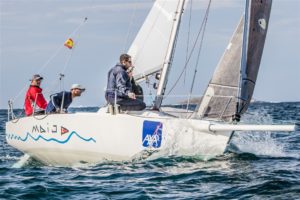 It relegated José Luis Pérez Vázquez's Maija to second place, which was, without a doubt, one of the sailboats that haggled the best on this day. He started very strongly, signing a first and a second, but a fall to sixth position in the last test took away the final victory.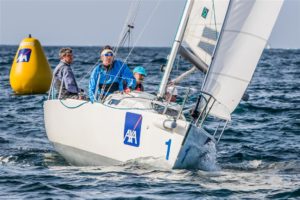 Juan Luis Tuero's Luna Nueva, another of the regulars on the J80 league podiums, had to settle for third place.
Thus, the provisional podium was formed at the start of the J80 one-design autumn league, in which Fernándo Yáñez's Cansino and Santiago Estévez's Spaco are fourth and fifth in the provisional classification.
The AXA J80 Autumn League will maintain the same format as in previous editions and will play the different days with a 15-day break between them, except in the last stage. Thus, the next appointment with the monotypes in Baiona will be on November 9; and there will be two more days on November 23 and 30. It will be that day, the last of the month, the closing of the competition, with the award ceremony for the winners and a dinner for the entire participating fleet.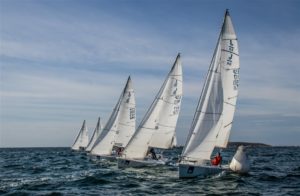 AXA J80 AUTUMN LEAGUE MONTE REAL YACHT CLUB
PROVISIONAL CLASSIFICATION (TOP 5) AFTER THE FIRST DAY
1) NAMASTE LUIS DE MIRA 6 POINTS
2) MAIJA · JOSE LUIS PÉREZ VÁZQUEZ · 9 POINTS
3) NEW MOON JUAN LUIS TUERO 11 POINTS
4) TIRED · FERNANDO YÁÑEZ · 12 POINTS
5) SPACO SANTIAGO ESTÉVEZ 13 POINTS