· In the year in which the twenty-fifth anniversary of "Galicia 93 Pescanova" is celebrated, TPC Events brought together Javier de la Gándara, Chuny Bermúdez de Castro, Ñaco Eraso and Guillermo Altadill at Monte Real
· The skipper and the three crew members of the great Galician ocean sailing project for the Whitbread Round the World 93-94 participated today together with Pablo Iglesias and Jorge Lorenzo in an activity framed in the Team Sailing program of the Baionese club
· The renowned skippers were in charge of leading a group of crews from a major multinational company who participated in coaching and team building training activities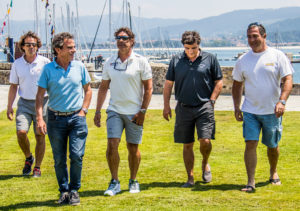 In the year that marks the twenty-fifth anniversary of the historic "Galicia 93 Pescanova" , TPC Events brought together today at the Monte Real Club de Yates four of the sailors who were part of the great Galician ocean sailing project: Javier de la Gándara, Roberto "Chuny" Bermudez de Castro, Ignacio "Ñaco" Eraso and Guillermo Altadill.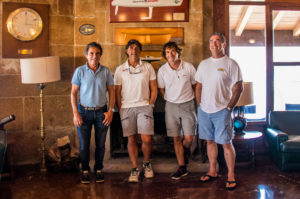 The skipper and the three crew members who competed in the Whitbread Round the World 93-94 were in charge of leading, together with Pablo Iglesias and Jorge Lorenzo, a group of six crews from an important multinational company that, aboard six of the club's sailboats, They participated in various coaching and team building training activities in the waters of the Vigo estuary.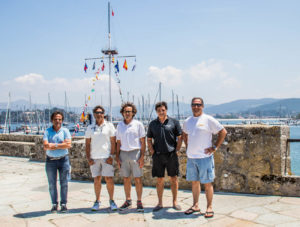 The activity organized by TPC Events at Monte Real included activities from the Team Sailing project of the Monte Real Yacht Club, launched in 2017. It is a program with which the club expanded the activities offered to the general public beyond training at its Sailing School or participation in regattas.
Through 6 different proposals, Monte Real offers sectors not directly related to nautical the possibility of approaching the world of sailing with the aim of extracting personal and professional benefits from it.
Of the 6 activities proposed, 3 have a more playful nature, which includes living the experience of a regatta, participating in a competition to get to know the Cíes Islands or discovering Baiona by sailboat. The other half of the offer is based on training elements closely related to coaching , including workshops for companies, team building sessions to improve performance or workshops to optimize teamwork.
Compete in a regatta with coworkers in one of the most beautiful spots on the Atlantic coast, visit the only marine national park in Spain, train leadership skills to improve team performance and the work environment within a company, redefine the course personal and work of workers or improve the use of time are some of the possibilities offered by the program Team Sailing of the Monte Real Yacht Club.