· The twenty J80 who have been taking part in the Baitra J80 Winter League in Baiona since last January return this weekend in a double day
· The eight-meter fleet will compete in the fourth stage of tests on Saturday from three in the afternoon and the fifth on Sunday from eleven in the morning
Javier de la Gándara's Okofen is in the lead with six points followed by Ameneiro's Alboroto with eleven and Marías de Cunha with fourteen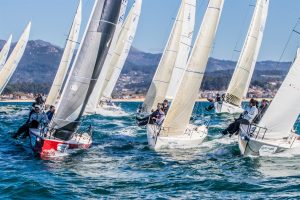 The twenty J80 who have been taking part in the Baitra J80 Winter League in Baiona since last January return to the water this weekend in a double competition day. The eight-meter fleet will compete in the fourth and fifth stages of the championship on Saturday from three in the afternoon and on Sunday from eleven in the morning.
There will be two days of tests in which it is planned to put into play a total of six tasks (three per day) of the windward-leeward type, and in which, if test number 11 is completed, a new discard will come into play, which will once again offer crews the chance to remove their worst result from the standings.
With six races in two days of regatta and the possibility of a discard being applied, everything indicates that this weekend's double day will be decisive in terms of shaping the final podium, since once this phase is over , only the last three tests will be held, scheduled for next April 2.
Until now, Javier de la Gándara's Okofen is the team that has been the most solid in the competition, with four first places and one second. He leads with 6 points followed by Juan Carlos Ameneiro's Alboroto (with 11 points) and Manel Cunha's Marías (with 14 points), who close the provisional podium.
For the first day of Saturday, the forecasts announce a wind of between 7 and 11 knots from the south, with the possibility of shifting and falling in intensity as the hours progress.