· The Okofen crew led by Javier de la Gándara remains leader of the Baitra J80 Winter League after the celebration of the fourth day
· Juan Carlos Ameneiro's Alboroto and Manel Cunha's Marías hold the provisional silver and bronze with two stages remaining to finish the championship
· The Baitra J80 Winter League continues this Sunday with the fifth and penultimate phase and three tests scheduled starting at eleven in the morning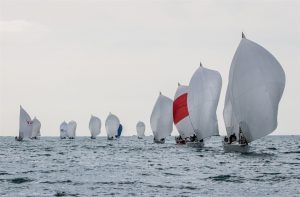 The crew of the Okofen, skippered by Javier de la Gándara, remain leaders of the Baitra J80 Winter League of the Monte Real Club de Yates after the celebration, this Saturday, of the fourth stage of the competition.
The yacht, which finished the first round of the day with a fourth place, managed to come back in the second and cross the finish line first, which allowed it to continue at the head of a classification that it leads with 10 points.
With fifteen points, Juan Carlos Ameneiro's Uproar remains in his wake, one of the outstanding teams on Saturday, in which he signed a brilliant first and third in the two contested races.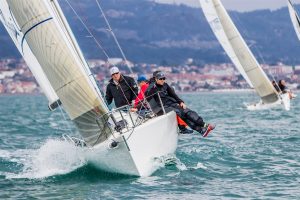 Therefore, there were no changes in the provisional gold and silver positions, nor in the bronze position, which continues to be occupied by Marías of the Portuguese Manel Cunha, with 19 points. Already at a greater distance appear the fourth and fifth classified, Cansino, by Alejandra Suárez, with 34 points; and the Spaco de Santiago Estévez, with 44.
This Saturday's were two regattas that the committee, with Miguel Cons at the helm, was able to put into play, not without some complication. After being forced to delay its start due to the wind, which could not be established; Once the tests had started, he had to make a change of route in the first round, shorten the second, and cancel the third, for which the wind was already completely insufficient.
In the first race, Ameneiro's Alboroto sailed with flying colors and was the first to cross the finish line, with a certain advantage over the rest of the fleet. In second position came the Propspeed of Chisco Catalán, with the brothers Luis and Jorge Pérez Canal and Ramón Ojea completing the crew; and third place went to the Portuguese from Marías.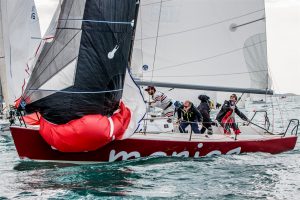 Gándara's Okofen entered fourth, signing their worst result to date, but in the second race they did not forgive and returned to the lead. He finished first and is still first in the standings. In this second round, Marías and Alboroto finished second and third, reaffirming themselves as the two strongest rivals to stand up to Okofen.
The Baitra J80 Winter League continues this Sunday with the fifth day of tests starting at eleven in the morning. At that time, the first of the three scheduled sleeves will be put into play for what will be the penultimate stage of the competition, which is scheduled to end on April 2.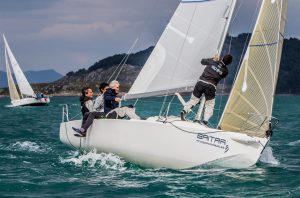 BAITRA J80 WINTER LEAGUE
Top 5 after the fourth day of regattas
1. OKOFEN · JAVIER DE LA GANDARA · 10 POINTS
2. ALBOROTO · JUAN CARLOS AMENEIRO · 15 POINTS
3. MARÍAS MANEL CUNHA 19 POINTS
4. TIRED · ALEJANDRA SUÁREZ · 34 POINTS
5. SPACO SANTIAGO ESTÉVEZ 44 POINTS