Javier de la Gándara's Okofen was placed at the head of the Baitra J80 Winter League this Saturday after winning two of the three contested races
· The Alboroto led by the former champion of Spain in the Javier Aguado class was on the verge of victory and occupies the second position
The Marías of the Portuguese Manel Cunha is third in a competition that still has four days left to know its final outcome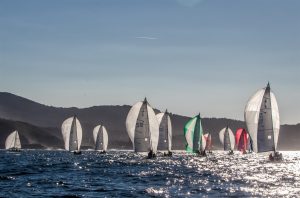 The Okofen of Javier de la Gándara from Vigo was placed at the head of the Baitra J80 Winter League this Saturday after winning two of the three tests with which the competition was inaugurated. The crew came with a thorn in their side after having missed the Autumn League and convincingly demonstrated why they are one of the best teams in the running and one of the clear contenders for the final victory.
Those of De la Gándara haggled with ease and managed to get, in many moments, a significant distance from the rest of the fleet. In fact, in the first heat they crossed the finish line with great comfort separated from the rest.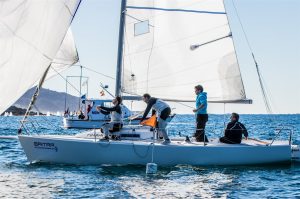 Somewhat more complicated was the second test, in which they gave prominence to Alboroto, led by the former Spanish champion of the class, Javier Aguado. The sailboat was the fastest to take the buoys and to reach the finish line, winning the heat and leaving Okofen in second place.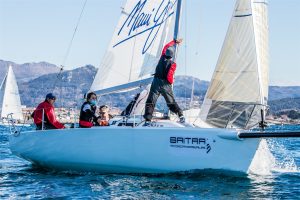 But the Gándara crew was not willing to let the long-awaited victory slip away and took advantage of the third and last test of the day to sentence the classification with another first place. And so, with partial 1-2-1, it was how Okofen won the first victory of the Winter League, which the Monte Real Club de Yates organizes until next April thanks to the sponsorship of Baitra Accesorios Navales .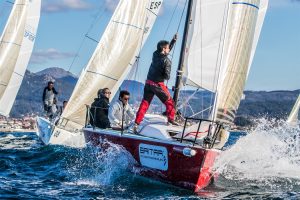 Along with the Okofen and the Alboroto, the other outstanding sailboat of the day was the Marías of the Portuguese Manel Cunha, who always remained very close to the first positions. They finished with results of 2-3-3 and third place in the provisional standings, but if they keep up their good work, they will undoubtedly be one of the crews to take into account in the coming days.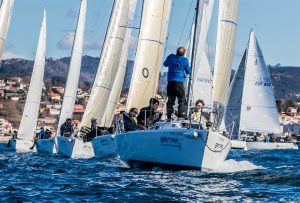 The Top-5 after this first day of competition is closed by Alejandra Suárez's Cansino and Santiago Estévez's Spaco, fourth and fifth respectively. The next appointment with the one-design winter league is on the 19th.