· The collaboration between the Monte Real Yacht Club and the Xunta de Galicia made it possible to launch the "Sailing against gender violence" program thanks to which 16 women and their children were able to sail in the bay of Baiona
· The activities carried out at the Sailing School of the Baiona club were aimed at reinforcing the confidence, self-esteem and decision-making capacity of these women
· The Minister of Equality of the Galician government, María Jesús Lorenzana, whose department financed this pioneering program in Galicia, recently visited the Monte Real facilities in Baiona
((For reasons of privacy and protection of the women who participate in the initiative, images of the activities carried out with them are not included in this news nor have they been distributed))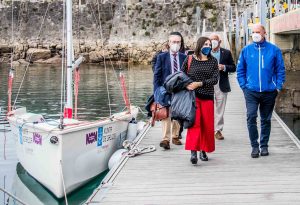 A total of 16 women victims of gender violence and 21 of their sons and daughters benefited, last year, from the program "Sailing against gender violence" , a pioneering program in Galicia promoted by the Monte Real Yacht Club and financed by the Xunta de Galicia through the Ministry of Equality.
The head of the regional department, María Jesús Lorenzana, recently visited the facilities of the Baion club to learn first-hand about the development, materials and infrastructure used in the activities, whose main objective was to strengthen confidence, self-esteem and decision-making capacity of these women.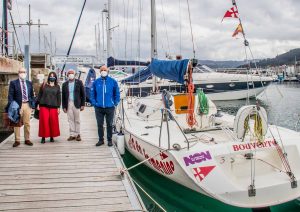 To achieve this, specific resources were designed that sought to reduce the emotional impact on the victims, minimize their state of anxiety, achieve the maximum development of their personal, intellectual, social and emotional capacities; strengthen their self-esteem and resistance to adversity; and promote empathy, active listening and healthy relationships.
The sports practice carried out on the boats of the Monte Real Club de Yates also contributed to improving their physical health and allowed the enjoyment of their sons and daughters, for whom specific independent activities were launched, mainly aimed at giving a break to mothers and the achievement of greater autonomy on the part of the little ones.
The activities were carried out for 6 months between May and October 2021 and users of the Comprehensive Recovery Center of Santiago (CRI) and the Emergency Center for Victims of Gender Violence of Vigo (CEMVI) participated.
SAILING IN FEMALE IN THE MRCYB
The initiative "Candle against gender violence" is part of the program "Vela en feminine" of the Monte Real Club de Yates, which seeks to encourage, promote and spread the presence of women in the world of sailing; and that also has the financial support of the Xunta de Galicia.
With the aim of favoring equality between men and women in nautical practice, the Baiona club sent female crews to participate in some of the most important trophies in Galicia and Spain; He managed to get the Royal Galician Sailing Federation to create women's and mixed prizes in the Galician A Dos Championship, prepared a team for the Women's National Circuit and organized the final of the Women's National League.