· The Santander native will receive the Terras Gauda National Sailing Award for the skipper of the year after becoming world champion in the J80 class in 2019
At just 33 years old, Santurde is one of the key figures in Spanish sailing, with victories in numerous national and international regattas
The Cantabrian skipper will receive the award on September 5 in Baiona at a gala organized every year by the Monte Real Club de Yates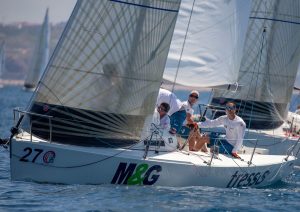 The Cantabrian sailor Pablo Santurde, 33, has just been recognized as skipper of the year by the Terras Gauda National Sailing Awards, which each year reward the most outstanding athletes, teams and institutions in the world of sailing in Spain.
The award, which Santurde will receive on September 5 at a gala to be held at the Monte Real Club de Yates de Baiona, recognizes the successes achieved by the skipper from Santander throughout 2019, when he became world champion in the class J80 leading the crew of the M&G Tressis of the Real Club Marítimo de Santander.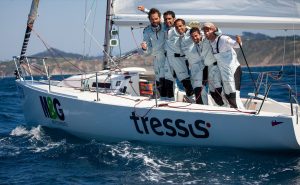 That year, in addition to winning the world championship as skipper, he managed to win the Caribbean 600 (in Class40) and the J70 Spanish Open. He also managed to get on the podium of the Normandy Channel Race (in Class40), in which he came second; and in the J70 World Championship, with a third position.
With a degree in nautical and maritime transport, Santurde began sailing at a very young age with the help of his parents, who always had a boat. He took his first steps in dinghy sailing on the Optimist, 420 and 470, participating in the London 2012 Olympic campaign in the 470 class.
Little by little he evolved and Gonzalo Botín gave him the opportunity to jump on the big boats and the big regattas. He sailed in mini 650 and in Class40 (with which he was world champion twice and runner-up twice) and managed to win such important races as the Fastnet Race (in 2015), the Caribbean 600 up to 6 times, the Transat Quebec Saint Malo (in 2016), the Tour of England and Ireland (in 2018) or the Transat Jacques Vabre, in which he achieved two podiums (second with Alex Pella in 2013 and third with Phil Sharp in 2017).
Imocas, Fígaros, MOD70, Swan, J70, J80… few are the boats that can resist this Cantabrian lover of the sea and sailing, who was very pleased to have been recognized with the award for skipper of the year at the National Awards for Terras Gauda candle.
"It is an honor to receive an award like this and to see so many years of work and dedication recognized, even more so when in Spain we have such good sailors, many of them also deserving of this award ", says Santurde, who also wanted to dedicate the award "To all the crews I have been a part of and to the colleagues from whom, without a doubt, I have learned so much" . The Cantabrian skipper also thanked the Monte Real Yacht Club for awarding the prize and its "tireless work to promote the practice of sailing and regattas in Spain over so many years" .