The Catalan Jordi Xammar and the Galician Nicolás Rodríguez will be distinguished with the Terras Gauda National Sailing Award for the best Olympic team
· The prestigious award recognizes their brilliant performance throughout 2019 when they managed to be runner-up in the world and Europe in the 470 class
· The Terras Gauda National Sailing Awards will be presented on September 5 at a gala organized in Baiona by the Monte Real Yacht Club within the framework of the Príncipe de Asturias Trophy (September 4, 5 and 6)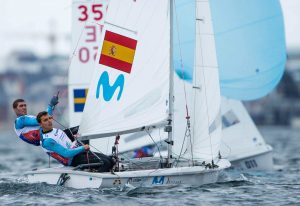 The tandem formed by the Catalan Jordi Xammar (Barcelona, 1993) and the Galician Nicolás Rodríguez (Vigo, 1991) will receive the Terras Gauda National Sailing Award on September 5 in Baiona, which recognizes them as the best Olympic team.
The jury that awards the awards wanted to distinguish them for their brilliant performance throughout 2019, a year in which they managed to be runners-up in Europe and the world; in addition to achieving bronze in the Pre-Olympic (Test Event) of the Tokyo 2020 Olympic Games and winning the World Cup in Miami, which in 2020 they revalidated for the second consecutive year.
The duo formed by the Barcelonan (Club Náutico Cambrils) and the Vigo (Real Club Náutico de Vigo) have been sailing together since September 2016, when Jordi Xammar's partner at the time, Joan Herp, decided to leave competitions to continue with his studies . After finishing twelfth at the Rio de Janeiro Olympics, the Catalan skipper needed a new crew member to prepare for Tokyo 2020 and found one in Nico Rodríguez. The man from Vigo, who was in the Canary Islands pending moving to the Netherlands to dedicate himself to dentistry, decided to put that trip on standby to accept Xammar's proposal to start sailing with him.
Their debut as a team in a high competition test was in January 2017 in the United States Championship, in which they achieved a creditable third place, and since then they have chained success after success. They have participated in more than 15 high-level events, achieving podium finishes in 12 of them.
They currently train with Gideon Kliger and Juan de la Fuente, occupy the number 2 position in the world ranking and are the great hope for Spanish Olympic sailing.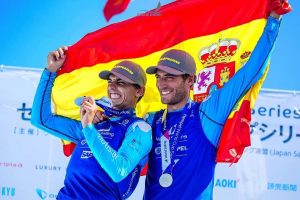 Next Saturday, September 5, they will receive in Baiona the award for the best Olympic team at the Terras Gauda National Sailing Awards gala, organized once again this year by the Monte Real Club de Yates within the framework of the Príncipe de Asturias Trophy, which is held on days 4, 5 and 6 of September.