Fair wind and calm sea to inaugurate the State Lottery and Gambling Trophy in the waters of the Monte Real Yacht Club
· The RCN Valencia maintains the leadership and the classifications tighten behind him at the gates of the final
RCN de Arrecife, RCN Torrevieja, RCN Gran Canaria, CN Altea and MRCY will seek a podium position on the last day
· Samuel Beneyto prevails in the eSailing version of the State Lottery and Gambling Trophy
(Information: Royal Spanish Sailing Federation Helena de la Gándara – Macarena Lainez / Photos: María Muiña RFEV / Video: Ugo Fonollá RFEV)
After the storm comes calm and the weather today has shown its other face in the waters of Baiona to start the second phase of the State Lotteries and Bets Trophy, with winds that have not exceeded 7 knots of intensity, unstable in direction and calm sea .
The day was used to the maximum to close the day with four almost complete clashes, after which the Real Club Náutico Valencia team, skippered by Alex Rodger, remains at the top of the table with a good cushion of points over Real Club Nautical Reef Gonzalo Morales.
But it is the Club Náutico Torrevieja, owned by José Manuel Ballester, who now occupies the third step of the podium, unseating the Real Club Náutico Gran Canaria owned by Onán Barreiros.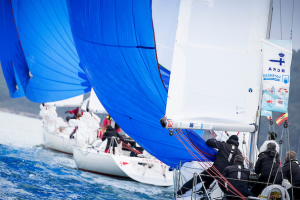 The classifications tighten up to sixth position, which is reached by the host team, skippered by Manuel María Cunha, who flaunts his good knowledge of the one design by adding today the best partials with three first places, which is enough to move up two places in the table and enter that compact group that tomorrow will give everything to get on the podium.
The satisfaction and drive of the Monte Real Club de Yates team are clear in the words of Jaime de la Gándara, crew member of the team led by Cunha: "The truth is that we have done three tests and fought three victories, we have fought until the end. In Calpe we did not know the boat or the conditions, but here it is different. Today we have all made mistakes: the field is difficult and we have all had problems, but we have been able to solve them quickly".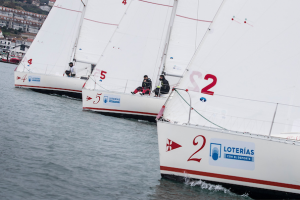 Regarding the options for the final day, the Galician crew member shows caution: "The level is very high and it is quite difficult to stay in the top positions because there is a lot of fighting. For tomorrow the part is complicated, everything is going to be more difficult due to the wind, the sea and the cold. We want to be in the final, whatever happens, and put the name of Baiona as high as possible".
The Sailing Instructions indicate 11:00 a.m. tomorrow, Monday, as the start time for the first tests, with a weather forecast that announces more wind, and a program that foresees the holding of more qualifying tests until 12:30 p.m. to proceed then to the finals, with three regattas that score double and to which the top six finishers will access.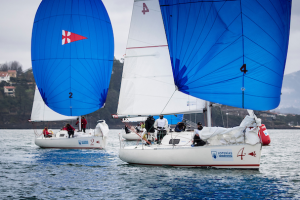 And after an exciting final, Samuel Beneyto has been proclaimed the individual winner of the Loterías y Apuestas del Estado Trophy, the Spanish Sailing League in its eSailing version, beating Miguel Cruz, second classified, and Joan Ravie, third.
Ranking Trophy Lotteries and State Bets
1 RCN Valencia/ Axel Rodger: 38.21 pts
2 RCN Arrecife / Gonzalo Morales: 47 pts
3 RCN Torrevieja / José Manuel Ballester: 51 pts
4 Gran Canaria RCN / Onán Barreiros: 52.78 pts
5 CN Altea / Alejandro Arroyo: 62.49 pts
6 MRCY Baiona / Manuel Maria Cunha: 66.45 pts
7 RCN Palma / Albert Torres: 75.45 pts
8 RCN Calpe / Juan Carlos Albelda: 77.32 pts
9 RCR Alicante / Nacho Campos: 78.50 pts
10 CN El Balís / Bárbara Cornudella: 84.20 pts
11 CN Campello / Iván Moreno: 101.28 = 80.95 pts