· The orange alert due to the Dora storm prevents the dispute of the first regattas of the Loterías y Apuestas del Estado Trophy
· The teams take advantage of the day to make contact with the Figaro, monotypes with which the regattas will be carried out
(Information: Royal Spanish Sailing Federation Helena de la Gándara – Macarena Lainez / Photos: María Muiña RFEV / Video: Ugo Fonollá RFEV)
The Dora storm has forced the start of the tests of the second and final phase of the State Lotteries and Betting Trophy to be postponed until tomorrow, which will be held until next Monday 7 in the waters of the Vigo estuary, based on Mount Royal Yacht Club.
The poor state of the sea advised the authorities to declare an orange alert throughout the Galician coast, thereby preventing the holding of sports competitions. But sheltered by the estuary, the eleven teams participating in this second edition of the Spanish Sailing League have held a free practice session, thus familiarizing themselves with the Figaro monotypes with which the tests will be held starting tomorrow.
During the first phase of the 2020 edition of the State Lotteries and Bets Trophy, held at the Real Club Náutico Calpe, the matches were held in Tom28 units, very different from the Figaros, as Axel Rodger, patron of the Real Club team, told us. Náutico Valencia, current leader of the general classification: "It is one more cruise ship, it is heavier, it has more displacement, it is larger, which requires more physical strength. We are a light crew, so with skill we will have to make up for our lack of strength and weight.".
The Real Club Náutico Valencia team is seven points ahead of its closest rival, Gonzalo Morales' Real Club Náutico de Arrecife, and thirteen over Onán Barreiros' Real Club Náutico de Gran Canaria, a superiority that, however, doesn't allow Rodger's team to relax: "We are happy to start as leaders, but there are many tests ahead of us and for us this is a new championship. It is a boat in which we have never sailed, the sea is very different from the Mediterranean and there are very good competitors, so we have to face it as if it were starting over, with an advantage, obviously, that we value".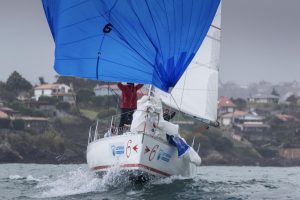 After having made good use of this opportunity to get to know their mounts, the teams are ready to begin the clashes, having in many cases reinforced their crews with a view to this final battle to win the Loterías y Apuestas del Estado Trophy, the Spanish Sailing League, and be one of those designated to represent Spain in the European League.
As planned, the regattas for tomorrow, Sunday, will begin at 11:00 a.m. and, as the regatta director, Luky Serrano, comments, "The intention is to do as many regattas as possible to recover today's, although with the "tight" schedule it is very complicated. On Monday we will start soon with qualifying regattas and, starting at 12:30 p.m., the finals, with three regattas that score double and to which the top six finishers have access".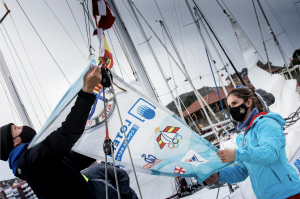 Classification Lotteries Trophy and State Bets -Real Club Náutico Calpe-
1 RCN Valencia/ Axel Rodger: 1.2-2.25-2.25-2-1-3-1-1-1-3-2-1-4-2.25-2 = 28.95 pts
2 RCN Arrecife / Gonzalo Morales: 3-1-1-2-2.25-2-2.25-2.25-3-1-3.5-2-2-4.75 = 36 sts
3 Gran Canaria RCN / Onan Barreiros: 6-3.5-6-4-4-1-3.5-2-2.25-2-1-1-1-1-4 = 42.25 pts
4 RCN Torrevieja / José Manuel Ballester: 1-1-3-1-1-4-1-5-4.75-4-2.25-6-4.75-1-3.5 = 43.25 pts
5 CN Altea / Alejandro Arroyo: 6-1.2-3-5-3-4.75-3.5-2-1-4-1-2.25-3-4.75-1 = 45.45 pts
6 RCN Palma / Hugo Ramón: 2.2-5-5-6-2.25-6-3-3.5-3-1-6-4.75-1-2-3 = 53.7 pts
7 RCN Calpe / Lara Sabina: 4.75-4.75-2-3-5-1-1-5-2-5-4.75-4-6-3-6 = 57.25 pts
8 MRCY Baiona / Manuel Cunha: 3.5-4.95-3.5-4.75-4.75-6-2.25-6-4.75-3.5-3-2.25-5 -3.5-2.25 = 59.95pts
9 CN El Balís / Bárbara Cornudella: 4,2-6-2-3,5-3,5-3,5-4-6-6-7-6-3-5-1-5 = 65,7 sts
10 RCR Alicante / Diego Campos: 5-4-4-6-1-6-4.75-4.75-4-2.25-4-3.5-6-6-5 = 66.25 pts
11 CN Campello / Ángela Andugar: 2.25-6.2-6-6-6-5-6-6-6-5-5-3.5-6-6-6 = 80.95 pts