Tomorrow is the first of the five days of the J80 Winter League that the Monte Real Club de Yates organizes exclusively for the J80 monotypes
· This year as a novelty there will be direct trials in the water with the aim of speeding up the solution of possible conflicts that may arise in the competition
Previous meetings for the skippers and rule talks once the tests are over are other changes that are introduced in the winter league
Added to the fleet this year are the Due de Portosín by Fernando García, the Alboroto skippered by the Spanish J80 champion Javier Aguado and the Picacho in which Miguel Lago from Vigo returns to the J80 class.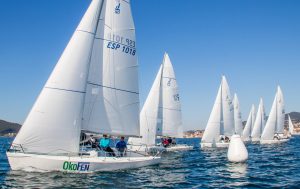 Tomorrow, Saturday, the first of the five days of the J80 Winter League will be held in Baiona, which the one-design fleet of the Monte Real Club de Yates will play on various weekends until next April.
There will be five stages in which 16 sailboats will fight to become the best J80 of the winter season, a title held by Javier de la Gándara's Okofen, winner of the last edition of the competition, held in 2018.
In addition to Javier de la Gándara's Okofen, in the competition we will see the second and third classified from the previous edition: Cansino skippered by Fernando Yáñez and Carlos Hernández's Miudo, in which students from the Monte Real Sailing School will alternate. .
Along with the usual Namasté by Luis de Mira, Luna Nueva by Juan Luis Tuero, Maija by José Luis Pérez or Spaco by Santiago Estévez, among others, this year sailboats such as the Due de Portosín, armed by Fernando García, will enter the competition; the Picacho in which Miguel Lago from Vigo returns to the J80 class; or the Alboroto de Juan Ameneiro, which will be skippered this Saturday by the Menorcan Javier Aguado, champion of Spain in the J80.
Thus, up to a total of 16 participants from Galicia, Asturias, Madrid, Menorca and Portugal, will be in charge of launching, this Saturday, the year of regattas in Baiona.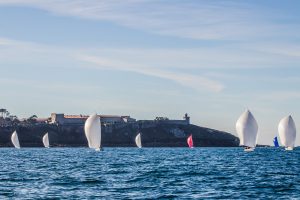 The design of the days will be identical to that of previous occasions. If the weather permits, three double-lap windward-leeward runs will be held in each stage. There will be between 2 and 3 miles of travel so that the crews can prove their worth in two beats, two sterns and various maneuvers on buoys.
This year, as a novelty, there will be a direct trial in the water, with the presence of a judge who will rule in situ on the protests that may arise during the tests.
The objective of this arbitration is to speed up the solution of possible conflicts between sailboats without having to wait for the end of the regattas for their resolution on land, thus avoiding delaying the publication of the classifications.
Other changes that are introduced in this 2020 are the holding of skipper meetings prior to the competition, at the Monte Real Club de Yates itself, and rule talks once the tests are over.