· The sailboat built by Juan Carlos Ameneiro and led by the Spanish champion Javier Aguado rose to the top of the competition classification after the first tests were held today in Baiona
· On the opening day, the light wind affected the navigation of the 16 participating monotypes, which despite everything, two of the three tests planned in the initial program were able to take part
· The Okofen skippered by Javier de la Gándara and the Pazo de Cea with María Campos at the cane were placed in second and third position in the provisional classification of the league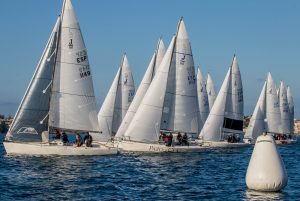 El Alboroto became the first leader of the J80 Winter League this afternoon in Baiona after beating the rest of the sailboats on the opening day of the competition organized by the Monte Real Club de Yates.
The sailboat built by Juan Carlos Ameneiro and skippered by the Spanish champion Javier Aguado managed to rise to the top of the classification after signing a second and a first place in the two tests held in the bay.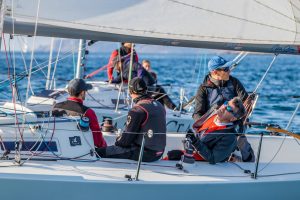 The competition could not start on time due to a light wind that did not help in the preparation of the regatta field, but once settled in intensity and direction, and placed the buoys for the windward-leeward courses, the fleet was able to sail with about five knots on average
Two double laps between buoys were completed, which meant four sections with two upwind and two downwind, in two routes that the regatta committee was forced to shorten so that the fleet could complete the tests on time.
The first test was for Alboroto skippered by Javier Aguado and Javier de la Gándara's Okofen came second. And in the second test the results were reversed. Alboroto and Okofen were, without a doubt, the protagonists of a day that ended tied on 3 points in first and second position respectively.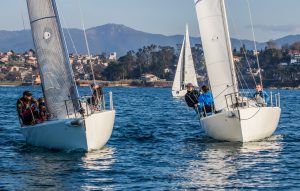 The Pazo de Cea crew, skippered by María Campos, completes the provisional podium with 10 points, closely followed by Fernando Yáñez's Cansino, with 11 points, and José Luis Pérez's Maija with 13.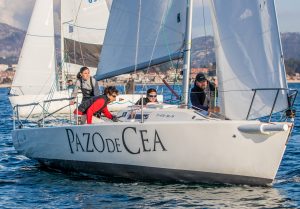 On the opening day of the Monte Real one-design league, direct trials began to be applied in the water, which is one of the novelties of this edition. Luckily, all the regattas were held without any significant incidents.
The J80 Winter League will return to Baiona on February 8 with the second day of the total of five scheduled stages, which will last until next April.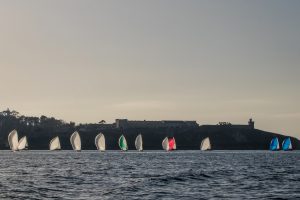 J80 WINTER LEAGUE MRCYB GENERAL CLASSIFICATION TOP 5
1. ALBOROTO · JAVIER AGUADO · 3 POINTS
2. OKOFEN · JAVIER DE LA GANDARA · 3 POINTS
3. CEA MANOR MARÍA CAMPOS 10 POINTS
4. TIRED · FERNANDO YÁÑEZ · 11 POINTS
5. MAIJA · JOSÉ LUIS PÉREZ · 13 POINTS
> GENERAL CLASSIFICATION WINTER LEAGUE J80