· The crew of the J70 is thus recognized for the Corinthian European Champion title achieved in 2019 in the championship disputed by 130 boats in Lago di Garda (Italy)
· After having achieved bronze in 2018, the Abril Verde won last year in the amateur category with a crew made up of Luis Pérez Canal, Carlos Sanmartín, Eduardo Reguera, Juan de Cominges and Luis Darocha
· The Terras Gauda National Sailing Awards will be presented on the night of Saturday, September 5 at a gala to be held in Baiona organized by the Monte Real Yacht Club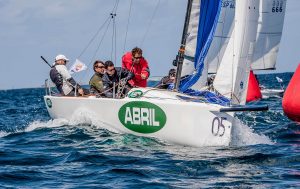 The J70 Abril Verde, skippered by Luis Pérez Canal from Ourense, has been honored with the Terras Gauda National Sailing Award for the one-design of the year for its achievement of the Corinthian European Champion title in Lake Garda (Italy), in a championship in which 130 boats participated.
After having achieved bronze in the 2018 European Championship, the crew of the Abril Verde managed to improve their results last year and climb to the top of the podium in the amateur category, beating the 36 rivals in their division. Those of the Real Club Náutico de Vigo won the title they were after, also managing to finish eighth overall in the championship.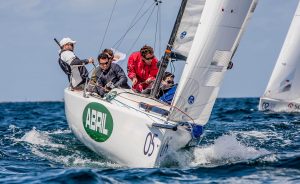 The crew was led by Luis Pérez Canal, from Ourense, one of the most relevant figures in sailing in Galicia today. His nautical curriculum highlights having been Galician Optimist champion, Spanish Laser runner-up and promoter of some of the most successful Galician regional sailing projects, such as the J70 Abril Verde itself (podium in 4 of the last 5 annual circuits of J70 in Spain, Corinthian Spanish Champion and Corinthian European Champion) and the Aceites Abril, a cruise ship that has won numerous victories in the most important regattas in Galicia, such as the Príncipe de Asturias Trophy, the Conde de Gondomar Trophy, the Repsol Trophy or the Rías Baixas Regatta, of which the winner has just recently been proclaimed.
Together with him, Carlos Sanmartín, Eduardo Reguera, Juan de Cominges and Luis Darocha completed the crew that won the European Championship. On September 5 they will collect the Terras Gauda National Sailing Award for the monotype of the year at a gala to be held in Baiona organized by the Monte Real Yacht Club.