· The skipper and crew member of the 420 sailing class has received this distinction after having been proclaimed champions of Spain and Europe in 2019
The athletes will collect the Terras Gauda National Sailing Award that recognizes them as the best youth team of the year on September 5 in Baiona
19-year-old Conrad Konitzer and Fernando Rodríguez capped off their brilliant 2019 season by taking bronze in the 420 World Championship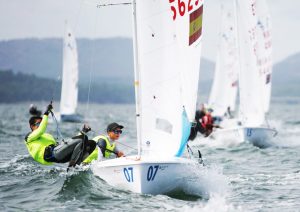 The Balearic athletes from the Club Náutic S'Arenal de Mallorca Conrad Konitzer and Fernando Rodríguez have been distinguished with the Terras Gauda National Sailing Award for the best youth team of the year 2019.
The 19-year-old sailors culminated an exceptional season last year by proclaiming themselves champions of Spain and Europe in the 420 class, and also winning bronze in the world championship held in Vilamoura (Portugal).
They were the fruits of many months of training, gym and hours of water, a hard work that allowed them to achieve the goal they had set just a year before, in 2018, when they started sailing together and managed to qualify for the ISAF World Cup.
The skipper of the team, Conrad Konitzer, is a Canadian who has lived in Mallorca for years. The son of a sailor, he got on an Optimist for the first time at the age of 5 encouraged by his father, with whom he started sailing. After making the leap to the 420 and winning gold in the Spanish and European championships, he has just switched to the 49er, with which he is training for the Paris Olympics.
He agrees with his partner Fernando Rodríguez that he also started sailing encouraged by his father and that in recent months he has changed classes. Now he sails in 470 and his aspirations are to achieve the best possible level for 2024.
Before that, on September 5, both will collect the Terras Gauda National Sailing Award in Baiona, which recognizes them as the best youth team of the year, an award for which they were very grateful.
"We are very happy to have been awarded and we hope to be a good example for future generations" , they assured, while confirming that "they will continue to work very hard to achieve new goals in the world of sailing" .