· The sailboats of Javier de la Gándara from Vigo and Manel Marías from Portugal are at the top of the classification separated by just 3 points
· The competition organized by the Monte Real Yacht Club with the sponsorship of Baitra celebrates this Saturday the third of the five scheduled days
· If the forecasts are fulfilled, today the sixth round of the League will be reached, which will allow the participants to eliminate their worst result from the classification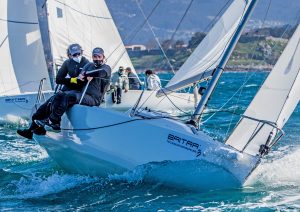 The Baitra J80 Winter League crosses its halfway mark this Saturday with the celebration of the third of the five scheduled days in the competition organized by the Monte Real Club de Yates with the sponsorship of Baitra Accesorios Navales.
The Okofen of Javier de la Gándara from Vigo and the Marías of the Portuguese Manel Marías are the sailboats that are in the lead, in first and second position respectively, separated by just three points. This tight difference and the proximity of the crews that are in third and fourth place -Fernando Yáñez's Cansino and Juan Carlos Ameneiro's Alboroto-, will undoubtedly give excitement to tomorrow's regatta day.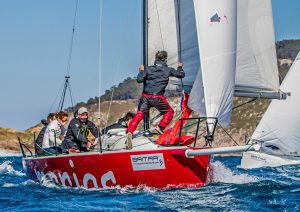 A stage in which, furthermore, if the forecasts are met and the three scheduled tests are held, the sixth round and the discard will be reached, which will allow the teams to eliminate their worst result from the classification, which may lead to important results. ranking jumps.
Everything is open, therefore, ahead of the third day of the Monte Real one-design league, which has a start time set at three in the afternoon at a regatta course located inside the Bay of Baiona , in which the weather forecast announces a lot of cloudiness, some rain and a wind from the southwest that will blow with about 8 – 10 knots of intensity.
The competition will be visible, as always, for anyone who wants it, from the promenade that surrounds the Parador Nacional and from the sandbanks closest to the Bay of Baiona.
BAITRA J80 WINTER LEAGUE MONTE REAL YACHT CLUB
Classification after the second day held on March 20
1. OKOFEN · JAVIER DE LA GANDARA · 9 POINTS
2. MARÍAS MANUEL MARÍAS 12 POINTS
3. TIRED · FERNANDO YÁÑEZ · 17 POINTS
4. ALBOROTO · JUAN CARLOS AMENEIRO · 19 POINTS
5. SPACO SANTIAGO ESTÉVEZ 25 POINTS
6. NEW MOON JUAN LUIS TUERO 31 POINTS
7. SDN CORMORÁN · FRANCISCO J. MARTÍNEZ · 35 POINTS
8. FERRALEMES · JAIME GARCIA · 36 POINTS
9. MAIJA · JOSE LUIS PÉREZ · 36 POINTS
10. LA GALERA · MIGUEL FERNÁNDEZ · 37 POINTS
11. DUE · RAFAEL BLANCO · 38 POINTS
12. IFACLINIC.COM JOAO NUNO ALLEN 43 POINTS
13. PETRILLA JAIME BARREIRO 44 POINTS
14. NAMASTE · LUIS DE MIRA · 52 POINTS
15. CEA MANOR IAGO CARBALLO 62 POINTS
16. MIUDO IGNACIO SALGUEIRO 72 POINTS
17. MONDO BERNARDO MACEDO 72 POINTS