· A weak wind that failed to gain intensity or stabilize prevented the fourth scheduled day from being held this Saturday in the bay of Baiona
· The twenty monotypes competing for the Monte Real Club de Yates championship will meet again on December 18 in the final day
· Manel María Cunha's Marías and Javier de la Gándara's Okofen are the ones with the most ballots to win the league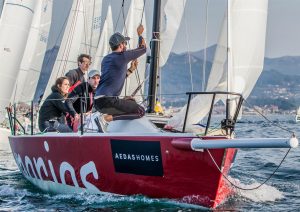 What the forecasts had been announcing for days was finally confirmed this Saturday in the bay of Baiona. The low wind predicted by the maps failed to gain intensity or stabilize enough for the fourth -and penultimate- day of the AEDAS Homes J80 Autumn League to be played.
The regatta committee started a test but the boats could only complete the first of the two beats of the scheduled windward-leeward course, and shortly after starting the stern, a large role of wind forced the task to be suspended.
A new location was then sought for the regatta field with the aim of finding the long-awaited wind, but the attempts ended up being unsuccessful and the day was considered suspended.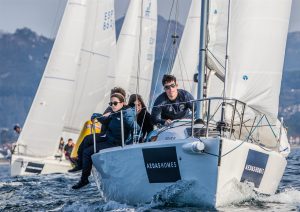 With no points to add to the standings, the table remains intact with Marías of the Portuguese Manel María Cunha and Okofen of Javier de la Gándara from Vigo in the lead, occupying the first and second position with 9 and 11 points respectively. In third place we find Alejandra Suárez's Cansino, with 22 points.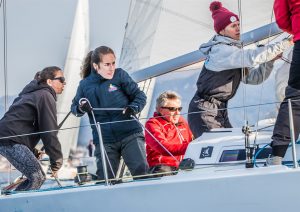 They will thus arrive at the fifth day to be held on December 18. It will undoubtedly be an exciting stage, not only because it is the last of the competition, but also because, if one more event is played, a discard will come into play, which will allow the crews to eliminate their worst result to date.