· The one-design championship organized by the Monte Real Club de Yates celebrates its penultimate day this weekend with a very tight classification in the top positions
· The Marías of the Portuguese Manel Cunha and the Okofen of the vigués Javier de la Gándara lead the league separated by just two points and the Cansino of Alejandra Suárez follows closely
· With the next valid test, the crews will be able to eliminate their worst result from the classification, which could cause changes in the positions and reduce the gap between the teams aspiring to the podium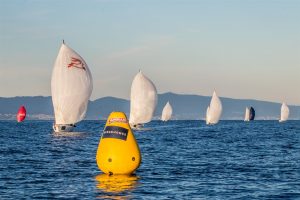 The AEDAS Homes J80 Autumn League faces its outcome in Baiona with the celebration this Saturday of its fourth day, the penultimate of those scheduled in the one-design championship organized by the Monte Real Club de Yates.
The competition heads into the final stretch with a very tight classification in the top positions, in which are the Marías of the Portuguese Manel Cunha, with 9 points; and the Okofen of Javier de la Gándara from Vigo, with 11 points. Somewhat further away, although without losing their podium options, we find El Cansino, led by the young Alejandra Suárez, with 22 points.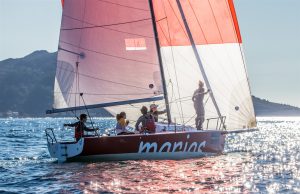 With the next valid test, the sixth since the league began, a discard will come into play that will allow the crews to eliminate their worst result from the classification, which could cause changes in the positions and reduce the separation between the aspiring teams. the ultimate victory.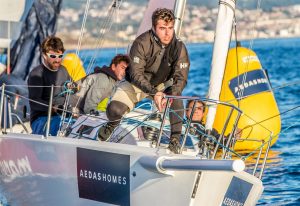 The first places are very tight, with a separation of just two points, and we also find the next part of the table very tight, with the fourth, fifth, sixth and seventh classified in a handkerchief of 6 points. They are Bernardo Macedo's Mondo, with 41 points; Francisco Martínez's SND Cormorant, with 45 points; Luis de Mira's Namasté, with 46 points; and Yago Marquina's Miudo, with 47 points.
Nor should we lose sight of boats such as Juan Luis Tuero's Luna Nueva, Juan Carlos Ameneiro's Alboroto or Santiago Estévez's Spaco which, although they are in lower positions in the classification, are usually candidate crews for the podium.
The regatta day tomorrow, Saturday, for which the forecast announces light northerly winds, will begin at three in the afternoon and will include, in addition to the competition, a briefing with coach Carlos Llamas, who is in charge of preparing the fleet for future competitions.