· After the celebration of the first stage on May 1, the competition returns to the Vigo estuary tomorrow Saturday for the second assault with two new tests: a windward leeward and a coastal route
· The Aceites Abril of the Real Club Náutico de Vigo and the Unus of the Monte Real Club de Yates lead the classification of the great boats and hold provisional gold in the ORC 1 and 2 classes
· In the dispute for the Luso Galaica Cup of Monotypes J80 leads the classification the Okofen of Javier de la Gándara and in the Fígaro class the Bouvento of Luis Alcázar
After a two-day break, the Repsol Trophy – 42nd Monte Real Club de Yachts Spring Regatta returns to the Vigo estuary tomorrow to celebrate the second of the three days in which the competition will be decided.
After the initial stage on Wednesday , the sailboats will have to face two new tests this Saturday with north-northwest winds between 9 and 11 knots. They will open the competition with a windward-leeward starting at half past twelve at the Cíes Islands anchorage; and they will finish it off with a coastal route that will take them, predictably, through Subrido, Bondaña, La Negra and Carallones, to finally finish inside the bay of Baiona, in front of the Parador Nacional.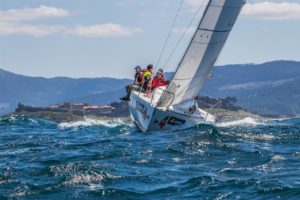 The Aceites Abril of the Real Club Náutico de Vigo, led by the Pérez Canal brothers, is at the top of the ORC 1 classification; and in the ORC 2 class, the leader is Unus del Monte Real Club de Yates, with Luis García Trigo at the controls. In the dispute for the J80 Monotype Luso-Galaica Cup, Javier de la Gándara's Okofen leads the classification; and in the Figaro class, the Bouvento skippered by Luis Alcázar.
In the Repsol Trophy program for tomorrow, Saturday, in addition to the competition in the water, there is a seafood dinner offered by Monte Real, a gin and tonic tasting with the collaboration of Martin Miller Gin and Royal Bliss, and live music with the performance by the Vigo pop music group La Franga.
REPSOL TROPHY 42nd SPRING REGATTA
Provisional classification after the first day of tests
REPSOL TROPHY ORC CLASS 1
1. APRIL OILS · LUIS AND JORGE PÉREZ CANAL · RCN VIGO
2. SANTORUM & MARTINEZ GROUP · JAVIER DURAN · CND RIVEIRA
3. BOSCH SERVICE SOLUTIONS RAMÓN OJEA CM CANIDO
REPSOL TROPHY ORC 2 CLASS
1. UNUS LUIS GARCÍA TRIGO MONTE REAL YACHT CLUB
2. BALEA DOUS LUIS PÉREZ ROYAL YACHT CLUB OF RODEIRA
3. NAHELA · VICTOR ÁLVAREZ · ALAGUA SPORTS CLUB
REPSOL TROPHY J80 CLASS
1. OKOFEN JAVIER DE LA GANDARA MONTE REAL YACHT CLUB
2. MARÍAS CASAS DO TELHADO · MANUEL MARÍA CUNHA · MRCYB
3. CANSINO · FERNANDO YÁÑEZ · MONTE REAL YACHT CLUB
REPSOL TROPHY FIGARO CLASS
1. BOUVENTO LUIS ALCÁZAR MONTE REAL YACHT CLUB
2. SERRALLEIRAS ELENA RAGA MONTE REAL YACHT CLUB
3. SILLEIRO · MIGUEL MONTES · MONTE REAL YACHT CLUB