· The Monte Real Club de Yates has just signed the Olympic coach Carlos Llamas to prepare the J80 fleet for the Spanish and World Championships to be held in Baiona in 2022 and 2023
· The coach from Malaga will make his debut with the monotypes based in Baiona this weekend on the third day of the AEDAS Homes J80 Autumn League, in which Javier de la Gándara's Okofen leads the standings
· The three tests that will be held on Saturday will be Llamas' first contact with the 8-meter fleet, which he will analyze on the water and which he will later offer a briefing at the club's facilities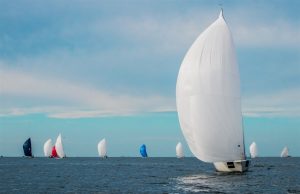 The Monte Real Club de Yates has just hired the Olympic coach Carlos Llamas to prepare its J80 fleet for the Spanish Championship and the World Championship of the class to be held in Baiona in 2022 and 2023.
The coach from Malaga will train the Galician monotypes in the different days of the leagues that the club from Baiona celebrates during the autumn and winter months. He will go out on the water with the 8 meter crews to analyze their maneuvers and at the end of each day he will offer them a briefing aimed at improving their competition techniques and tactics.
The sports director of Monte Real, Roy Alonso, assures that the incorporation of Carlos Llamas will mean "a great boost for a fleet that can give a lot to talk about both in the national and world championships that the club will organize the next two years". "There are two appointments -says Alonso- very important for Monte Real and, although there is still time ahead, we want to start now with the preparation so that the fleet is one hundred percent" .
The Andalusian Carlos Llamas stands out for having trained some of the most outstanding sailors on the Spanish nautical scene, such as Támara Echegoyen, Fernando Echávarri, Diego Botín or Jordi Xammar, among many others. He has been an Olympic trainer twice (Athens and Rio) and among the achievements of his athletes there are European championships of 470, J70, 49er and Star; and medals in J80 world championships.
Llamas will debut with the Baiona monotypes this weekend on the third day of the AEDAS Homes J80 Autumn League, in which Javier de la Gándara's Okofen leads the standings with 6 points, closely followed by Marias de Manel Cunha (8 points). The third provisional position belongs to Cansino de Alejandra Suárez, with 16 points.
The forecast for the racing day, in which three races are scheduled, announces light winds from the north on a sunny but cool day.