· The Portuguese crew led by Manel Cunha won the regatta held this Saturday in Baiona and closes the gap with Javier de la Gándara's Okofen, who continues to lead
· With three days to go until the end of the championship, only two points separate two of the favorite boats to win the competition organized by the Monte Real Club de Yates with the sponsorship of AEDAS Homes
· El Cansino, skippered by the young woman from Vigo, Alejandra Suárez, remains in third position, 8 points behind the second and 10 behind the first.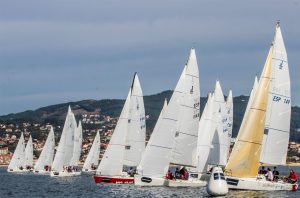 The Portuguese crew of the Marías was the winner of the second day of the AEDAS Homes J80 Autumn League that was played this Saturday in Baiona. The boat led by the young Manel Cunha, with an entirely Lusitanian crew completed by Marta Ramada, Vasco Tinoco, Gonzalo Hipólito and José Cunha, prevailed decisively in the only test that could be disputed.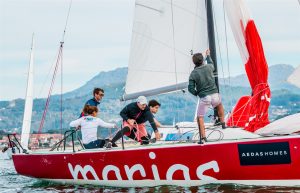 Despite the fact that three tasks were scheduled to be put into play in the day's program, the wind did not blow with sufficient intensity and only allowed the first test to be held. It was also done with a shortening of the route that announced what would happen shortly after, when the second test had to be canceled due to a total drop in the wind.
With little hopeful prospects that the situation would improve, the regatta committee decided to end the day with that only contested race, a task allowed the distance between the two leading boats to be shortened, leaving the third in an assault position and grouping the rest of the fleet in the middle of the table.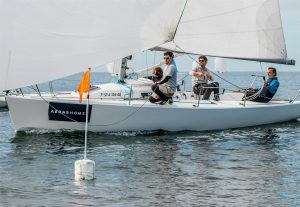 The classification continues to be headed, with 6 points, by Javier de la Gándara's Okofen, who, due to a not-too-good start, prevented him from signing what would have been his fourth first place finish in the championship partials. With 1-1-1-3, they remain leaders of the classification, but with their most direct rival, Marías, hot on their heels. The Portuguese, with partial runs of 3-2-2-1, showed this Saturday that they are going for it all and with 8 points they are close to the lead.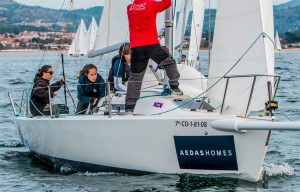 In third position, with 16 points, El Cansino repeats, skippered by Alejandra Suárez from Vigo, who not only manages to stay in the positions of honour, not too far from the two leaders, but also distances herself from the rest of the competitors. In fourth position is Bernardo Macedo's Mondo with 29 points and fifth place, with 35 points, goes to La Galera from Coruña, led by Miguel Fernández.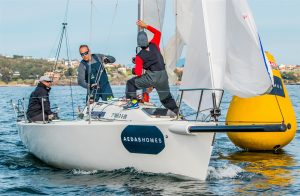 The AEDAS Homes J80 Autumn League returns to Baiona in November to play its third and fourth days, on the 6th and 20th. The fifth and final stage will be left for December, to be held on the 18th, together with the award ceremony for the winners.
AEDAS HOMES J80 FALL LEAGUE
Classification after the second day
1. OKOFEN · JAVIER DE LA GANDARA · MRCYB · 6 POINTS
2. MARÍAS MANEL CUNHA MRCYB 8 POINTS
3. TIRED · ALEJANDRA SUÁREZ · MRCYB · 16 POINTS
4. MONDO BERNARDO MACEDO MRCYB 29 POINTS
5. LA GALERA · MIGUEL FERNÁNDEZ VASCO · RCN CORUÑA · 35 POINTS
….. up to 20 classifieds.