· The sailboat armed by Javier de la Gándara chains a new victory in the regattas held in Galicia in this 2020 after winning the Galician Two-Way Cruise Championship just a few days ago
· Juan Carlos Ameneiro's Alboroto and José Luis Pérez's Maija won silver and bronze in a competition that kept the pulse going until the final day in which the winners' podium was decided
· The Comunica Trophy marked the closure of the J80 League with which the Monte Real Club de Yates inaugurated its sports calendar this year and which had to be suspended during the state of alarm derived from COVID19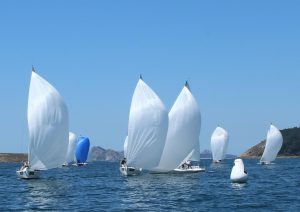 The Okofen, armed and skippered by the prominent sailor from Vigo Javier de la Gándara, won the Comunica Trophy this afternoon in Baiona, with which the Monte Real Club de Yates was able to finally close the J80 League that had had to suspend last month of March due to the state of alarm motivated by COVID19.
After three months of competition and another three of break, the one-design championship promoted by Monte Real said goodbye to Baiona with the fourth and last day of tests, in which the J80s competed in the last two regattas that ended up defining the podium of winners.
They were two sleeves that were held in complicated conditions due to the wind, which had many ups and downs, even disappearing at times, and which forced the area of the regatta field to be changed several times.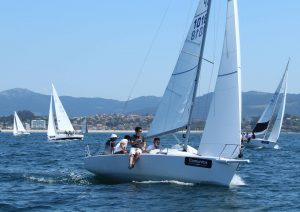 After having won the Galician Two-Way Cruise Championship a few days ago and reaching the final as a clear contender for the title, the Okofen did not disappoint. With Javier de la Gándara leading the team, the usual crew that Manel María Cunha joined on this last day, signed two first places in the two contested races and sentenced the championship.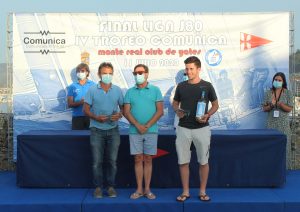 With 13 points he won gold in the Comunica Trophy, leaving Juan Carlos Ameneiro's Alboroto, who finished with 28 points, the silver medal. The Fuss was quite far from the first place they had aspired to since January, when they started winning on the first day of the league. He was, without a doubt, the best rival for Okofen and the one that came closest to beating him, although in the end he was quite a few points behind him.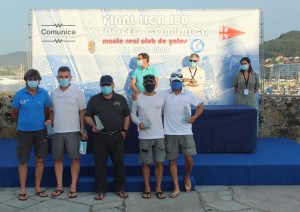 Fernando Yáñez's Cansino, who came third in the final, was unable to consolidate that third position, which was finally snatched away by José Luis Pérez's Maija, with 40 points. Those of Yáñez, with 42 points, stayed just outside the podium, with a meritorious fourth position.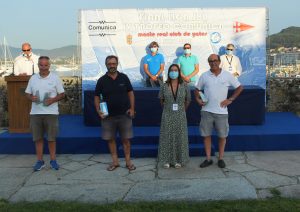 Present at the award ceremony, held at the end of the tests at the Monte Real Yacht Club, were, among others, the Vice President and Commodore of Monte Real, Alejandro Retolaza and Ignacio Sánchez Otaegui; and the executive director of Comunica Comunicación Visual, Roberto Lira, as sponsor of the event.
COMUNICA TROPHY J80 MRCYB LEAGUE FINAL GENERAL CLASSIFICATION TOP 5
1. OKOFEN · JAVIER DE LA GANDARA · 13 POINTS
2. ALBOROTO · JUAN CARLOS AMENEIRO · 28 POINTS
3. MAIJA · JOSÉ LUIS PÉREZ · 40 POINTS
4. TIRED · FERNANDO YÁÑEZ · 42 POINTS
5. CEA MANOR MARIA CAMPOS 50 POINTS