The Comunica Trophy will decide tomorrow, Saturday in Baiona, the winners of the Monte Real J80 League, which was suspended last March due to the health situation caused by COVID-19
· The Okofen skippered by Javier de la Gándara, who a few days ago won the Galician A Dos Championship, is leading the standings and aspires to revalidate the title it won in the previous edition of the J80 Winter League
· El Alboroto by Juan Carlos Ameneiro and El Cansino by Fernando Yáñez occupy second and third place in the provisional classification, followed by El Maija by José Luis Pérez and Namasté by Luis de Mira
· The final victory will be played in four double courses of the windward-leeward type tomorrow, Saturday, starting at three in the afternoon in the bay of Baiona
The Comunica Trophy will decide tomorrow, Saturday in Baiona, the winners of the J80 League of the Monte Real Club de Yates, the one-design competition of the Baiona club that was suspended last March due to the health situation derived from COVID-19.
Starting at three in the afternoon, the waters of the bay will be the scene of the last four tests of the competition, from which the design of the final classification and the winners' podium will come out. The J80s will have to complete four double courses of the windward leeward type, between 2 and 3 miles of course with close hauls, two sterns and several maneuvers on buoys.
The weather forecast announces a typical summer day, with temperatures approaching 30 degrees and a wind that will blow from the north with an average of 5 or 6 knots and gusts of up to 10 knots at times.
The competition will be in real time and with direct judgment in the water, thanks to the presence of a judge who will rule in situ on the protests that may arise during the events. This will speed up the resolution of possible conflicts between sailboats without having to wait for the end of the races for their resolution on land, thus avoiding delaying the publication of the classifications.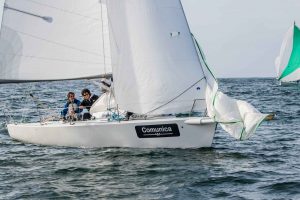 The Okofen skippered by Javier de la Gándara, who just a few days ago won the Galician Two-Handed Championship, is leading the standings and aspires to revalidate the title it won in the previous edition of the J80 Winter League.
With 11 points, it is six ahead of its most direct rival, Juan Carlos Ameneiro's Alboroto, which is, with 17 points, the other sailboat with the best chance of winning the final victory.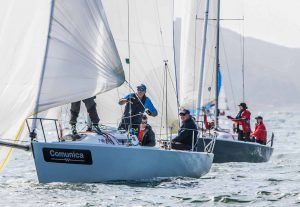 Behind Okofen and Alboroto, although separated by quite a few more points, are Fernando Yáñez's Cansino, which occupies third place in the provisional classification with 32 points, and José Luis Pérez's Maija and Luis de Mira's Namasté , who are fourth and fifth with 35 and 40 points respectively.
Once the tests in the water have finished, the Monte Real Club de Yates will host the awards ceremony for the winners, which will be held at around eight in the afternoon at the club's facilities. It will be attended, among others, by several members of the board of directors of Monte Real as the organizing club, the Baiona city council and Comunica, the company sponsoring the event, a visual communication firm that offers its services throughout Galicia from the municipality of A Guarda, where its main headquarters are located. The firm will be represented by its executive director, Roberto Lira.
1. OKOFEN · JAVIER DE LA GANDARA · 11 POINTS
2. ALBOROTO · JUAN CARLOS AMENEIRO · 17 POINTS
3. TIRED · FERNANDO YÁÑEZ · 32 POINTS
4. MAIJA · JOSÉ LUIS PÉREZ · 35 POINTS
5. NAMASTE · LUIS DE MIRA · 40 POINTS