· The sailboat led by Javier de la Gándara signed the best results of the Baitra J80 Winter League this Saturday and was able to climb from fourth to first position
· The Portuguese crew of the Marías, who were leading the one-design competition, ran out of steam on the second day and had to settle for second place
· El Cansino by Fernando Yáñez managed to stay in the third position that he dragged from the first day and the climb of the day was carried out by El Alboroto by Juan Carlos Ameneiro rising from position 12 to 4
· The one-design competition of the Monte Real Club de Yates sponsored by Baitra Accesorios Navales resumes its tests on April 10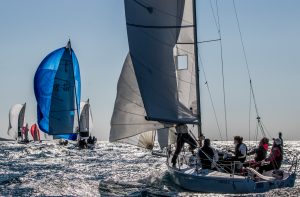 Javier de la Gándara's Okofen gave no respite this Saturday in Baiona and in addition to achieving the best results on the second day of the Baitra J80 Winter League, managed to take the lead from Manel Marías' Marías, who was in the lead after the stage inaugural.
The Gándara sailboat, led by the historic sailor from Vigo and crewed by his two sons Jaime and Javier, with the usual Diego Fernández also on board, signed two first and one third and once again demonstrated why it is one of the favorites to win with the ultimate victory.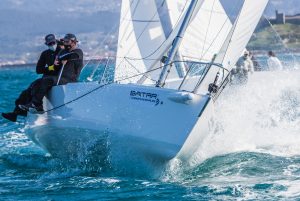 In the ascent of the Okofen, the fall was for the young Portuguese crew of the Marías, who was affected in the final classification of the day for crossing in sixth position in the first test. Despite recovering pace in the other two, in which he achieved a second and a third place, he had to settle for the second step of the provisional podium.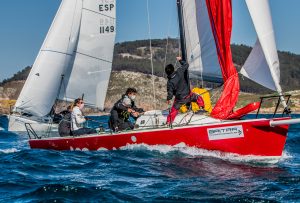 Just the opposite happened to Fernando Yáñez's Cansino. It started strong, with a second place, but it lost steam as the regatta day progressed; and the fourth and eighth places that he signed in the rest of the races did not allow him to climb positions beyond the third place that he had dragged from the first stage.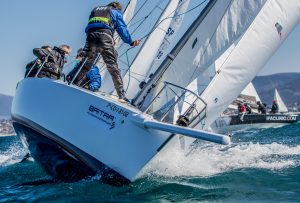 In fourth position is Juan Carlos Ameneiro's Alboroto, in which this Saturday the presence of the Spanish J80 champion, Javier Aguado, was noted. His good work helped the crew climb positions from 12th to 4th place. It was, without a doubt, the climb of the day, for one of the sailboats with the best results (one first, one second and one fourth in the tests held).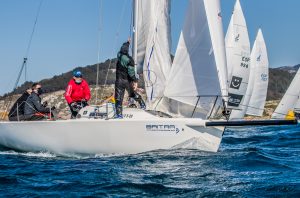 Closing the Top 5 of the Baitra J80 Winter League we find Santiago Estevez's Spaco, which does not change its position with respect to the first day. They are followed by Luna Nueva by Juan Luis Tuero; the SDN Cormorant of Francisco J. Martínez; and the Ferralemes by Jaime García.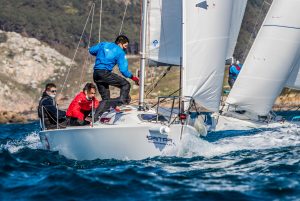 Further down the classification we find Maija by José Luis Pérez; The Galley of Miguel Fernández; Rafael Blanco's Due; Joao Nuno Allen's Ifaclinic.com; and Jaime Barreiro's Petrilla. And they close the list of Luis de Mira's Namasté; the Pazo de Cea by Iago Carballo; the Miudo by Nacho Salgueiro and the Mondo by Bernardo Macedo.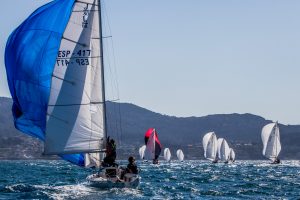 The Baitra J80 Winter League organized by the Monte Real Club de Yates with the sponsorship of Baitra Accesorios Navales will return to the bay of Baiona on April 10 with three new tests that will take the monotypes into the halfway point of the competition.
Previously, the Monte Real will host the Spanish Optimist Championship during Easter, between March 31 and April 3, which will be officially presented next Tuesday at one in the afternoon at the club's facilities.
BAITRA J80 WINTER LEAGUE MONTE REAL YACHT CLUB
Classification after the second day held on March 20
1. OKOFEN · JAVIER DE LA GANDARA · 9 POINTS
2. MARÍAS · MANUEL MARÍAS · 12 POINT
3. TIRED · FERNANDO YÁÑEZ · 17 POINTS
4. ALBOROTO · JUAN CARLOS AMENEIRO · 19 POINTS
5. SPACO SANTIAGO ESTÉVEZ 25 POINTS
6. NEW MOON JUAN LUIS TUERO 31 POINTS
7. SDN CORMORÁN · FRANCISCO J. MARTÍNEZ · 35 POINTS
8. FERRALEMES · JAIME GARCIA · 36 POINTS
9. MAIJA · JOSE LUIS PÉREZ · 36 POINTS
10. LA GALERA · MIGUEL FERNÁNDEZ · 37 POINTS
11. DUE · RAFAEL BLANCO · 38 POINTS
12. IFACLINIC.COM JOAO NUNO ALLEN 43 POINTS
13. PETRILLA JAIME BARREIRO 44 POINTS
14. NAMASTE · LUIS DE MIRA · 52 POINTS
15. CEA MANOR IAGO CARBALLO 62 POINTS
16. MIUDO IGNACIO SALGUEIRO 72 POINTS
17. MONDO BERNARDO MACEDO 72 POINTS