· Aboard Okofen, the skipper from Vigo has the best results in the Baitra J80 Winter League, which celebrates its last day in Baiona this Saturday
· De la Gándara and his crew reach the final stage in first position with 8 points followed by Alboroto with 12 points and Marías with 17 points
· The last three tests of the competition will be played from three in the afternoon and at half past eight the prizes will be awarded to the winners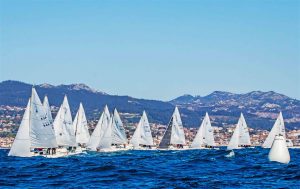 The sailor from Vigo Javier de la Gándara and his crew from Okofen caress the final victory of the Baitra J80 Winter League, as they reach the last day of the competition, which is held this Saturday in Baiona, as leaders.
De la Gándara, his sons Jaime and Javier, and Okofen regular Diego Fernández lead the provisional standings with 8 points and, except for big mistakes or unexpected surprises that prevent them from maintaining the good track record up to now, they have many ballots to take the final victory.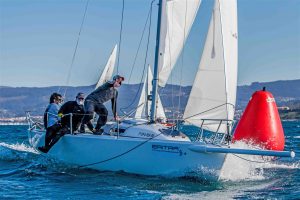 Juan Carlos Ameneiro's Albotoro, who was joined on several days by the Spanish J80 champion, Javier Aguado, could avoid his victory. It is another of the J80s that has managed to chain very good results in the six tests held so far and could storm the first position of the league, since it occupies second place just 4 points behind Okofen.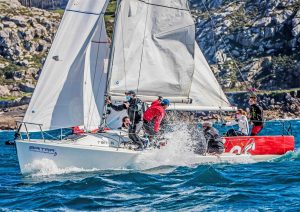 Somewhat more difficult to finish as leader will be for the Portuguese crew of the Marías, led by Manel María, who is third with 17 points, 9 behind the leader and 5 behind the second. It will be difficult for him to win the laurels but he will almost certainly be among the top finishers.
Closing the Top 5 of the Baitra J80 Winter League and with aspirations to be able to sneak into a podium position are Fernando Yáñez's Cansino, with 22 points; and La Galera by Miguel Fernández, with 24 points.
After the suspension of the penultimate day due to bad weather conditions, the Baitra J80 Winter League will celebrate its final stage this Saturday from three in the afternoon. The regatta committee hopes to be able to start the three tests planned in the program, and the sailboats will be left without being able to apply a new discard (of their worst result) because the six tests necessary to do so will not be held.
Once the competition in the water is over, the facilities of the Monte Real Club de Yates will host the awards ceremony for the winners, starting at half past seven. It will be attended by the general director of Baitra Accesorios Navales, Juan Carlos González, as sponsor of the event.
BAITRA J80 WINTER LEAGUE MONTE REAL YACHT CLUB
Provisional classification in the absence of the last day
1. OKOFEN · JAVIER DE LA GANDARA · 8 POINTS
2. ALBOROTO · JUAN CARLOS AMENEIRO · 12 POINTS
3. MARÍAS · MANUEL MARÍAS · 17 POINTS
4. TIRED · FERNANDO YÁÑEZ · 22 POINTS
5. LA GALERA · MIGUEL FERNÁNDEZ · 24 POINTS
6. MAIJA · JOSE LUIS PÉREZ · 34 POINTS
7. IFACLINIC.COM JOAO NUNO ALLEN 37 POINTS
8. SPACO SANTIAGO ESTÉVEZ 37 POINTS
9. DUE · RAFAEL BLANCO · 43 POINTS
10. FERRALEMES · R. GARCIA · 44 POINTS
11. NEW MOON JUAN LUIS TUERO 45 POINTS
12. SDN CORMORÁN · FRANCISCO J. MARTÍNEZ · 46 POINTS
13. NAMASTE · LUIS DE MIRA · 47 POINTS
14. PETRILLA JAIME BARREIRO 63 POINTS
15. CEA MANOR IAGO CARBALLO 77 POINTS
16. LUXOCONF JEAN CLAUDE SARRADE 78 POINTS
17. MIUDO IGNACIO SALGUEIRO 81 POINTS
18. MONDO BERNARDO MACEDO 95 POINTS