· The crew of the Real Club Náutico de Vigo, led by Luis and Jorge Pérez Canal from Ourense, won the long regatta of the Zelnova Zeltia Banco Sabadell Grand Prix
· Julio Rodríguez's Magical from the Vigo yacht charter was the fastest boat to complete the 94-mile route to the Corcubión rock, but time compensation took away the final stage victory
· The boats that did not go out to compete yesterday on the opening day will compete this Saturday in a coastal regatta that will take them to the Ons archipelago, turning at the Camouco lighthouse
The Aceites Abril of the Real Club Náutico de Vigo, led by the Ourense brothers Luis and Jorge Pérez Canal, was the winner of the long regatta of the 46th Conde de Gondomar Trophy – Zelnova Zeltia Banco Sabadell Grand Prix, held this Friday in the Rías Baixas under the organization of the Monte Real Yacht Club.
The crew of the yacht from Vigo used 13 hours and 16 minutes to cover the 94-mile round trip between Baiona and the rock of Corcubión. It entered at 00:16:20, just 6 seconds before Alberto Moro's Solventis (00:16:26), who had been the first to reach Carrumeiro on the climb; and 21 minutes after Julio Rodríguez's Magical, who was the first to cross the finish line at 23:55:01, and became the winner of the stage in real time.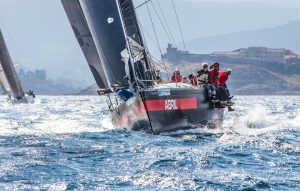 The Magical was the fastest, but the time compensation, which in the last edition of the Count of Gondomar had precisely given him the victory against Yess Too by Rui Ramada; On this occasion, he snatched the victory against the Aceites Abril team, with a long tradition on the Carrumeiro route.
The Pérez Canal brothers began to compete in the event when they were just 16 years old and, since then, they have not missed their appointment with the Corcubión rock. This latest victory places them even closer to the laurels of the 46th Count of Gondomar. If they achieve it, they would add their fifth victory in the Monte Real Club de Yates competition, after those achieved in 2013, 2016, 2017 and 2018.