· The third day of the Spanish Optimist Championship – Cenor Trophy that was going to be held this Friday in Baiona was canceled due to lack of wind
· The 150 sailors participating in the competition will play for the laurels in the last stage that takes place tomorrow, Saturday, starting at eleven in the morning
· After the protests registered in the first tests there were some changes in the classification but the Balearic federation continues to command forcefully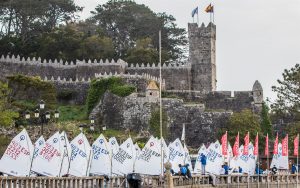 The third day of the Spanish Optimist Championship – Cenor Trophy, in which three new tests of the dinghy sailing competition were to be held, ended up being canceled this Friday in Baiona (Galicia) due to lack of wind.
The 150 sailors participating in the competition did not even get out on the water. They remained on land for hours pending in case a breeze came in and they could go sailing, but the conditions never became ideal.
Members of the regatta committee and the beacons did go out to sea to study, from the early hours of the morning, both the interior and the entrance channel to the Bay of Baiona, but the wind did not manage to reach the intensity in any of those areas. necessary. At some point up to 7 knots were recorded, which was the maximum of the day, but neither direction boards were maintained nor did they last over time.
Finally, after verifying that it would be impossible to contest any sleeve, the organization decided to cancel the stage and summon the participants to the final day this Saturday, the last of the championship, with a scheduled start time for eleven in the morning.
After the protests registered after the first tests there were some changes in the initial classification, but the protagonists of the ranking continue to be, with force, the sailors of the Balearic federation, followed by the Valencian, Canarian and Andalusian territorial ones.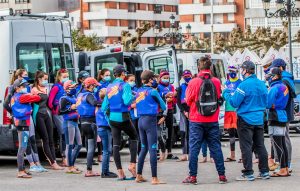 In the U16 male category, Tim Lubat (RCN Palma) is in the lead, followed by Xavier García (RCN Palma) and Miguel Padrón (RCN Gran Canaria). Marisa Alexandra Vicens (CN s'Arenal), and Susana Bestard (RCN Palma) and Nicola Jane Sadler (CN s'Arenal) are second and third in the women's SUB 16 category.
In SUB 13, the best classified in the men's section are Ignacio Martín (RCN Palma), Rodrigo Luis González Pérez (CND Punta Umbría) and Nikko Palou (RCN Palma). Blanca Ferrando (RCN Valencia), Gabriela Morell (RCN Palma) and Laia Matos (CMSAP) hold the provisional gold, silver and bronze in the women's SUB 13 category.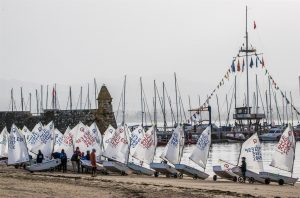 Tomorrow, Saturday, in addition to the last tests -if the wind allows it-, the awards ceremony will be held for the new Optimist champions of Spain, at six in the afternoon at the facilities of the Monte Real Club de Yates, organizing club.
The president of Monte Real, José Luis Álvarez; Cenor's marketing director, Leticia Fernandez; the territorial delegate of the Xunta de Galicia in Vigo, Marta Fernández; the tourism deputy of the Pontevedra Provincial Council, Ana Laura Iglesias; the mayor of Baiona, Carlos Gómez; and the president of the Royal Galician Sailing Federation, Manuel Villaverde.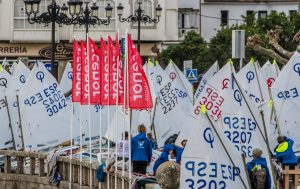 OPTIMIST SPANISH CHAMPIONSHIP 2021 · CENOR TROPHY
Classification with four tests disputed in a day of competition
UNDER 16 MALE
1. TIM LUBAT RCN PALMA 6 POINTS
2. XAVIER GARCÍA RCN PALMA 13 POINTS
3. MIGUEL PADRÓN RCN GRAN CANARIA 15 POINTS
SUB 16 FEMALE
1. MARISA ALEXANDRA VICENS CN S'ARENAL 4 POINTS
2. SUSANA BESTARD RCN PALMA 14 POINTS
3. NICOLA JANE SADLER CN S'ARENAL 21 POINTS
UNDER 13 MALE
1. IGNACIO MARTÍN RCN PALMA 19 POINTS
2. RODRIGO LUIS GONZÁLEZ PÉREZ CDN PUNTA UMBRÍA 33 POINTS
3. NIKKO PALOU RCN PALMA 56 POINTS
SUB 13 FEMALE
1. BLANCA FERRANDO RCN VALENCIA 41 POINTS
2. GABRIELA MORELL RCN PALMA 58 POINTS
3. LAIA MATTOS CMSAP 80 POINTS
> MRCYB FACEBOOK PHOTO GALLERY