· The young 12-year-old sailor from Vigo managed to prevail in the final of the Optimist competition, beating Martín Montes and his brother Yago Marquina who finished second and third respectively
· The youngest of the Marquina family thus revalidates the triumph achieved in 2018 when he won the championship for the first time that Monte Real organizes every year in Baiona with the help of Baitra
· The closing of the Baitra Social League puts an end to the 2018-2019 season of the Monte Real Yacht Club Sailing School and marks the beginning of its summer program that offers multiple proposals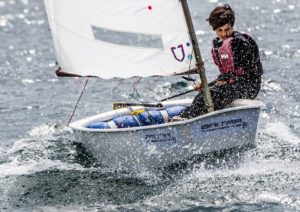 The young 12-year-old sailor from Vigo, Pablo Marquina, was the winner, this Sunday in Baiona, of the Baitra Social League of the Monte Real Club de Yachts, a competition that the Baion club organizes from September to June for children between 7 and 17 years old .
After the final tests held this weekend, Marquina prevailed over the rest of the sailors who competed in the Optimist class. In this way, he managed to revalidate the triumph achieved in 2018, when he won for the first time the victory of the championship that Monte Real organizes every year in Baiona by Baitra Accesorios Navales.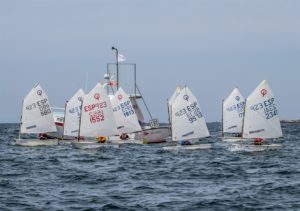 And he did it with superiority, since, with 38 final points, he established a difference of 7 points with his most direct rival. The one who was his coach throughout the year, Samuel Montouto, assures that little Marquina's final victory is the result of continuous progression based on the great work done by the athlete in recent months. His methodical, controlled and orderly attitude, and his desire to achieve perfection are, according to Montouto, the keys to his good results.
Second and third place in the Social League went to Martín Montes and Pablo's older brother, Yago Marquina, aged 11 and 13 respectively, who took silver and bronze with 45 and 58 points.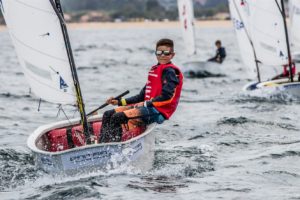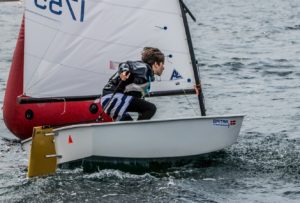 Both maintained a very good trajectory throughout the season and did not disappoint in the last two days played this weekend. In fact, Montes was the best of the weekend, achieving 4 first places in the last 5 races held.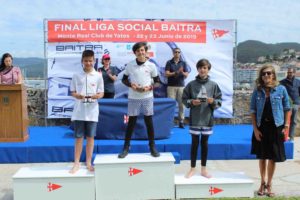 In the awards ceremony for the winners, held this Sunday in Baiona, participated, in addition to numerous relatives and friends of the sailors, the mayor of Baiona, Carlos Gómez; and the commodore and vice commodore of the Monte Real Yacht Club, Fernando Yáñez and Genoveva Pereiro. Also Susana Méndez, from Baitra Accesorios Navales, sponsor company of the event and one of the main promoters of children's sailing in Galicia.
The closure of the Baitra Social League marks the end of the 2018-2019 season of the Monte Real Sailing School and marks the beginning of its summer programming , which offers multiple leisure options so that children and adults can learn to sail and enjoy the sea in Baiona.
Daytime sailing camps and weekly dinghy sailing courses are the proposals aimed at the smallest of the house, between 7 and 16 years old. For adults, the Baionese club offers the possibility of taking weekly cruise sailing courses and courses to learn to sail in one day. The summer program is completed with sailing activities at sunset or sailing to the Cíes Islands, aimed at a more familiar audience or groups of friends.
GENERAL FINAL CLASSIFICATION BAITRA SOCIAL LEAGUE
Monte Real Yacht Club Baiona, June 22 and 23, 2019
OPTIMIST CLASS
1. PABLO MARQUINA 38 POINTS
2. MARTIN MONTES ·45 POINTS
3. YAGO MARQUINA 58 POINTS