· The youngest of the Marquina brothers is at the head of the Optimist classification in the absence of the final tests tomorrow, Sunday
· After achieving two first places in the two regattas held today, Martín Montes is second, closing the gap with the leader
· The competition will be decided tomorrow at 11:30 in the morning and the awards ceremony will be held in the afternoon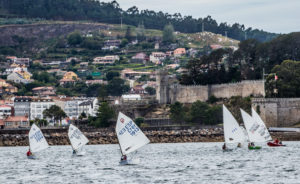 Pablo Marquina caresses the victory of the Baitra Social League of the Monte Real Yacht Club, which this weekend celebrates its final in the waters of the Bay of Baiona. The youngest of the Marquina brothers is at the head of the Optimist classification in the absence of the final tests that will be held tomorrow, Sunday.
The twelve-year-old sailor from Monte Real finished second and fourth in the regattas held today, but the good results obtained throughout the season, on which the final classification is established, allow him to remain in highest on the provisional podium.
The best of the day was, without a doubt, little eleven-year-old Martín Montes, the first to cross the finish line in the two races held, also achieving a great advantage over his most direct competitors. He was the most outstanding sailor and managed to close the gap with respect to the leader, but he still remains in second position.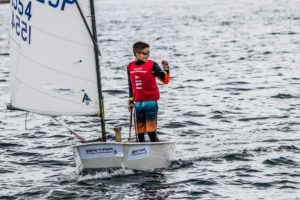 The third place and provisional bronze of the competition goes to Yago Marquina, 13 years old, who did not have a very lucky day, with a fifth and a sixth place in the two races held, but who is still a firm contender for the podium.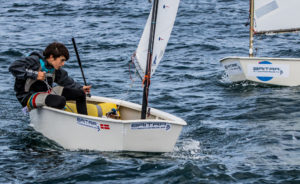 In addition to the competitive section, the Final of the Baitra Social League organized by the Monte Real Club de Yates is having a more playful part, aimed at bringing the public closer to the world of regattas so that they can get to know it first-hand. Thus, the Baionese club took two Omegas out into the water today, in which a group of boys and girls were able to perform a baptism of the sea and see the development of the regattas.
The Baitra Social League will be decided tomorrow, Sunday, with the second and last day of tests, which will be held at half past eleven in the morning in the Bay of Baiona. The regatta committee, chaired by Samuel Montouto, will try to start three tasks that would maintain the trapeze design of the first day.
Once the competition in the water is over, Monte Real will host the award ceremony for the winners. It will be around half past four in the afternoon and will be attended by the manager of Baitra Accesorios Navales, Juan Carlos González, as sponsor of the event; the mayor of Baiona, Carlos Gómez, representing the city council; and the president and commodore of the Monte Real Yacht Club, José Luis Álvarez and Fernando Yáñez.
TOP 3 – GENERAL CLASSIFICATION BAITRA SOCIAL LEAGUE
In the absence of a day for the end of the competition
OPTIMIST CLASS
1. PABLO MARQUINA 33 POINTS
2. MARTIN MONTES · 41 POINTS
3. YAGO MARQUINA 49 POINTS