· The sailboat skippered by Javier de la Gándara remains the leader of the J80 Winter League organized by the Monte Real Club de Yates
· Juan Carlos Ameneiro's Alboroto was the best of the third day held today in Baiona and managed to close the gap with Okofen
Third place on the provisional podium in the one-design competition goes to Fernando Yáñez's Cansino, followed by Maija and Namasté
· The fourth and penultimate day of the J80 Winter League will be held on March 21, coinciding with the San José long weekend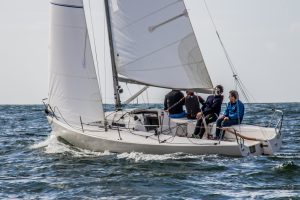 Javier de la Gándara's Okofen remains the leader of the J80 Winter League of the Monte Real Club de Yates, which this afternoon celebrated its third day in Baiona. The contender to retain the title of the previous edition managed to consolidate his leadership despite not achieving the expected results and being overshadowed by Juan Carlos Ameneiro's Rampage, which was, without a doubt, the best of the day.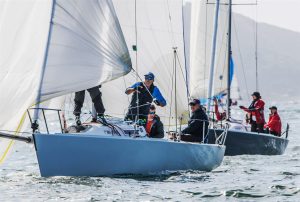 With the J80 Spanish champion Javier Aguado on board; and Juan José Lago and Javier Lago completing the team, the Alboroto de Ameneiro signed two of the three victories that were played today in the bay of Baiona. He failed to overtake Okofen in the general standings, but he did manage to climb to second place on the provisional podium and close the gap with the leader, from whom he is now only separated by six points.
Waiting for what may happen in the two remaining days, to be held on March 21 and April 4, between them two seems to be the battle for the final victory of the one-design competition, since the separation of points with the rest of the fleet gives them a fairly comfortable margin so as not to disappoint.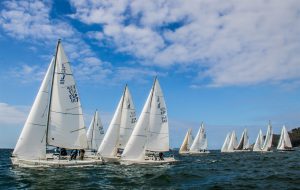 Fernando Yáñez's El Cansino, who came second from the previous day, fell to third position with 32 points. It is 21 points below the first classified (the Okofen, with 11 points) and 15 below the second (the Rampage, with 17 points).
The fourth and fifth places in the J80 Winter League remain unchanged, with José Luis Pérez's Maija and Luis de Mira's Namasté fighting for a place in the places of honor.
What was the third round of the competition organized by the Monte Real Club de Yates was held with a west wind of about 7 knots on average, which allowed the sailboats to complete three windward-leeward type tests, one of them with two general calls before giving the final output.
Excitement in the water and also emotion when drawing up the classifications, since the entry into play of a discard, which allowed the crews to eliminate their worst result to date from the classification, left the numbers much tighter for the two final stages, which will be held on March 21 and 4.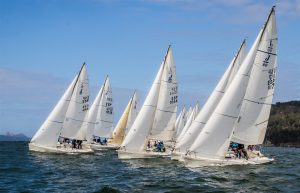 J80 WINTER LEAGUE MRCYB GENERAL CLASSIFICATION TOP 5
1. OKOFEN · JAVIER DE LA GANDARA · 11 POINTS
2. ALBOROTO · JUAN CARLOS AMENEIRO · 17 POINTS
3. TIRED · FERNANDO YÁÑEZ · 32 POINTS
4. MAIJA · JOSÉ LUIS PÉREZ · 35 POINTS
5. NAMASTE · LUIS DE MIRA · 40 POINTS