National Sailing Awards
07-09-2019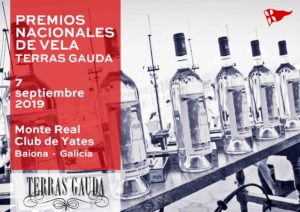 Within the framework of the celebration of the 34th Prince of Asturias Trophy, the Monte Real Yacht Club will once again host the award ceremony for the Terras Gauda National Sailing Awards, awards created more than 25 years ago with the aim of recognize the work of different people and institutions in favor of the world of sailing, as well as its human and sporting values.
The prizes will be delivered at the facilities of the Baionese club on Saturday, September 7 at eight in the afternoon . The winners will receive as a trophy a reproduction of the signal mast of the Monte Real Club de Yates, which bears the name of the former president of the club, Don Rafael Olmedo Limeses.
The awardees are:
ESTRELLA DAMM – BEST ORC BOAT
MOVISTAR RASCAL – BEST BOAT
DIEGO BOTIN AND IAGO LÓPEZ MARRA – OLYMPIC TEAM OF THE YEAR
GALICIA 93 PESCANOVA – BEST SPORTS PROJECT
MARTIN WIZNER AND PEDRO AMENEIRO – YOUTH TEAM OF THE YEAR
MARNATURA (J70) – MONOTYPE OF THE YEAR
VIOLET OF THE KINGDOM – SPORTSMAN OF THE YEAR
NAUTA 360 – MARIANO AGUADO AWARD FOR COMMUNICATION
The National Sailing Awards are sponsored, once again, by Bodegas Terras Gauda . Founded in the O Rosal Valley within the Rías Baixas Denomination of Origin, they currently market more than one and a half million bottles. A product made with the grapes grown in their more than 160 hectares of vineyards.
• MRCYB RACES CALENDAR 2019