· The sailboat skippered by Javier de la Gándara and manned by his usual team sentenced the opening day with a full victories in the three races held
· El Alboroto by Juan Carlos Ameneiro and El Cansino by Fernando Yáñez finished in second and third position, 6 and 7 points behind the leader
· The J80 Autumn League will return to Baiona on November 24 for the celebration of the second of the four days scheduled by the Monte Real Club de Yates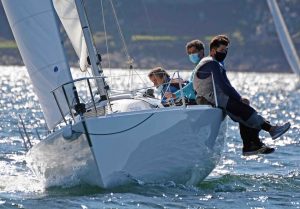 Javier de la Gándara made Okofen the first leader of the J80 class Autumn League this afternoon after winning the opening day held in the Bay of Baiona. The sailboat, skippered by the historic sailor and crewed by his usual team, finished first in all the events held and this plenary session placed them directly at the forefront of the one-design championship organized by the Monte Real Club de Yates.
The three tests with which the competition markers were released this Saturday were held in very good weather conditions, with sun, few waves and a north wind that started blowing at around 9 knots and rose to 16. They were all held in the same regatta field with the usual route of the Monte Real leagues, made up of four windward-leeward sections that added up to a total of 3.2 nautical miles.
In the first test of the day Okofen clearly dominated, from start to finish. It took first place followed by Ferralemes, skippered by Rosario García, who came second; and Santiago Estévez's Spaco was the third to cross the finish line.
In the second test, which opened with an off-line and subsequent rectification by Maija, Okofen repeated victory, showing that they had started the autumn season with great force. In this test, Fernando Yáñez's Cansino came out ready to fight, but despite the initial boost that allowed him to close the gap with Okofen, he was not able to overcome Gándara's. He managed, yes, to finish second, and beat Juan Carlos Ameneiro's Fuss, who finished third.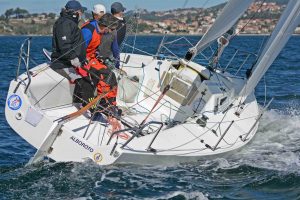 And in the third and last regatta of the day, in which the same weather conditions were maintained, there were no changes in the leadership either, although there was in the navigation and arrivals, which were much tighter than in the initial sleeves. Despite the fact that the track was more disputed, the Okofen was once again the winner, sentencing the opening day with a full of firsts. Second position went to Juan Carlos Ameneiro's Alboroto and Fernando Yáñez's Cansino came in third.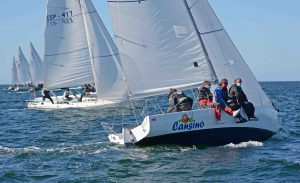 Thus, the maximum of three tests foreseen in the program have been completed, with Javier de la Gándara's Okofen (3 points), Juan Carlos Ameneiro's Alboroto (9 points) and Fernando Yáñez's Cansino (10 points), located At the top of the classification, the regatta committee, led by Jano Martín, ended the opening day of the J80 Autumn League and summoned the participants for the second round, which will be held on Saturday, October 24 .
J80 CLASS FALL LEAGUE MRCYB
GENERAL CLASSIFICATION AFTER THE FIRST DAY
1. OKOFEN · JAVIER DE LA GANDARA · MRCYB · 3 POINTS
2. ALBOROTO · JUAN CARLOS AMENEIRO · MRCYB · 9 POINTS
3. TIRED · FERNANDO YÁÑEZ · MRCYB · 10 POINTS
4. SPACO SANTIAGO ESTÉVEZ MRCYB 15 POINTS
5. FERRALEMES · ROSARIO GARCÍA · MRCYB · 17 POINTS
6. NEW MOON JUAN LUIS TUERO MRCYB 22 POINTS
7. MIUDO IGNACIO SALGUEIRO MRYCB 23 POINTS
8. MAIJA JOSÉ LUIS PÉREZ MRCYB 24 POINTS
9. NAMASTE · LUIS DE MIRA · MRCYB · 28 POINTS
10. SND CORMORÁN FRANCISCO J. MARTÍNEZ MRCYB 31 POINTS
11. PAZO DE CEA MARÍA CAMPOS MRCYB 32 POINTS
12. LUXOCONF JEAN CLAUDE SARRADE MRCYB 35 POINTS
13. MONDO BERNARDO MACEDO MRCYB 36 POINTS
14. OH CARMELA! · JUAN MARTÍNEZ PAZÓ · LM BOUZAS · 37 POINTS
15. PETRILLA JAIME BARREIRO MRCYB 41 POINTS
16. DUE · RAFAEL BLANCO · MRCYB · 54 POINTS
17. MARÍAS MANUEL MARÍA MRCYB-YCP 54 POINTS