· Javier de la Gándara's Okofen manages to stay in the lead after getting another victory and expanding the points cushion over their rivals
· El Alboroto by Juan Carlos Ameneiro and El Cansino by Fernando Yáñez consolidate second and third place in the provisional classification
· The three tests planned for today were reduced to one due to the wind with gusts that exceeded 30 knots
The Okofen by Javier de la Gándara, the Riot of Juan Carlos Ameneiro and the Fernando Yáñez's Cansino consolidate the first three places in the J80 Autumn League of the Monte Real Club de Yates, which this Saturday reached its halfway point with the dispute of the second of the four days scheduled between October and November.
The 17 participating one-designs could only take part this afternoon in one of the three tests scheduled in the program, since the weather met the forecasts and left a hard Saturday at sea, with a southerly wind always above 20 knots with gusts that they were over 30.
After seeing that the conditions were getting complicated at times, preventing the fleet from sailing safely, the regatta committee, with Jano Martín at the helm, decided to send the fleet ashore once the first test was over, in which the favorites did not disappoint .
Javier de la Gándara's Okofen was the first to cross the finish line, signing his fourth first so far in the competition. He was closely followed by the Rampage of Juan Carlos Ameneiro, who came second and remains in second place on the provisional podium.
Santiago Estevez's Spaco qualified third today, but failed to beat Fernando Yáñez's Cansino in the general standings who, despite finishing seventh, still have the bronze around their necks.
Behind Spaco -fourth-, are Rosario García's Ferralemes , in fifth position; Luna Nueva by Juan Luis Tuero, in sixth; and Nacho Salgueiro's Miudo , who is seventh. Francisco J Martínez's SND Cormorant climbed to eighth position overall today.
The only test disputed by the one-design fleet this Saturday was a windward-leeward course with a shorter distance than usual, as it was shortened by up to a mile due to the wind, which blew from the south with 20 sustained knots and gusts of up to 30.
These harsh conditions with which the regatta began became even more complicated as the minutes went by and finally forced the regatta committee to leave the day with a single test.
The J80 class Autumn League, in which 17 boats compete, will continue next Saturday, November 7 with the third and penultimate day of tests.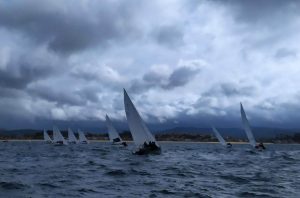 J80 CLASS FALL LEAGUE MRCYB
GENERAL CLASSIFICATION AFTER THE SECOND DAY
1. OKOFEN · JAVIER DE LA GANDARA · MRCYB · 4 POINTS
2. ALBOROTO · JUAN CARLOS AMENEIRO · MRCYB · 11 POINTS
3. TIRED · FERNANDO YÁÑEZ · MRCYB · 17 POINTS
4. SPACO SANTIAGO ESTÉVEZ MRCYB 18 POINTS
5. FERRALEMES · ROSARIO GARCÍA · MRCYB · 26 POINTS
6. NEW MOON JUAN LUIS TUERO MRCYB 26 POINTS
7. MIUDO IGNACIO SALGUEIRO MRYCB 33 POINTS
8. SND CORMORÁN FRANCISCO J. MARTÍNEZ MRCYB 36 POINTS
9. CEA MANOR MARÍA CAMPOS MRCYB 40 POINTS
10. LUXOCONF JEAN CLAUDE SARRADE MRCYB 41 POINTS
11. MAIJA JOSÉ LUIS PÉREZ MRCYB 42 POINTS
12. NAMASTE · LUIS DE MIRA · MRCYB · 46 POINTS
13. MONDO BERNARDO MACEDO MRCYB 54 POINTS
14. OH CARMELA! · JUAN MARTÍNEZ PAZÓ · LM BOUZAS · 55 POINTS
15. PETRILLA JAIME BARREIRO MRCYB 59 POINTS
16. DUE · RAFAEL BLANCO · MRCYB · 72 POINTS
17. MARÍAS MANUEL MARÍA MRCYB-YCP 72 POINTS