· The one-design competition that the Monte Real Club de Yates has been organizing since January enters its final stretch with the dispute this Saturday of the penultimate day
Javier de la Gándara's Okofen is leading the standings after achieving three victories in the six races held to date
· Juan Carlos Ameneiro's Alboroto and Manel María's Marías are in second and third position separated by 4 and 9 points behind Okofen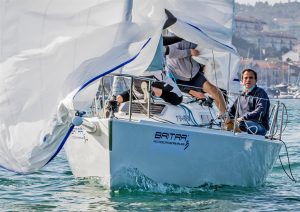 The Baitra J80 Winter League that the Monte Real Club de Yates has organized in Baiona since last January enters its final stretch this Saturday with the dispute of the penultimate day of tests.
Starting at three in the afternoon, the 18 sailboats that aspire to the title of the one-design league will meet in the bay of Baiona to compete in three new regattas with which to continue defining positions for the end of the competition, scheduled for May 29.
This Saturday there will be three new tests between buoys, of the windward-leeward type with a double loop, in which Javier de la Gándara's Okofen has proven to be the best so far. With partials of 4-3-1-1-2-1, the crew of the sailor from Vigo has been at the top of the classification for several days but without being able to relax too much, since there are several candidates to steal the lead.
From second place, Juan Carlos Ameneiro's Rampage is another of the firm contenders for the title. In the last stage, being able to rule out his worst result (12 points), which had been penalizing him a lot in the table, allowed him to rise to the silver position, just 4 points behind the leader.
A little further down, in third position, with provisional bronze, is the Portuguese crew of the Marías, led by Manel Marías. They are separated by 9 points from Okofen, but the team is one of those that usually surprises, so a possible Portuguese victory cannot be ruled out yet.
Somewhat more unstable with the previous scores was Fernando Yáñez's Cansino who, with very different partials, is in fourth position, closely followed, just 2 points apart, by La Galera from A Coruña, with Miguel Fernández Vasco in front.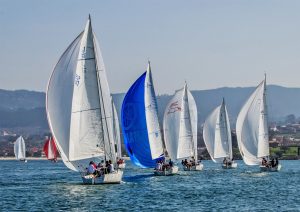 BAITRA J80 WINTER LEAGUE MONTE REAL YACHT CLUB
Classification after the third day held on April 10
1. OKOFEN · JAVIER DE LA GANDARA · 8 POINTS
2. ALBOROTO · JUAN CARLOS AMENEIRO · 12 POINTS
3. MARÍAS · MANUEL MARÍAS · 17 POINTS
4. TIRED · FERNANDO YÁÑEZ · 22 POINTS
5. LA GALERA · MIGUEL FERNÁNDEZ · 24 POINTS
6. MAIJA · JOSE LUIS PÉREZ · 34 POINTS
7. IFACLINIC.COM JOAO NUNO ALLEN 37 POINTS
8. SPACO SANTIAGO ESTÉVEZ 37 POINTS
9. DUE · RAFAEL BLANCO · 43 POINTS
10. FERRALEMES · R. GARCIA · 44 POINTS
11. NEW MOON JUAN LUIS TUERO 45 POINTS
12. SDN CORMORÁN · FRANCISCO J. MARTÍNEZ · 46 POINTS
13. NAMASTE · LUIS DE MIRA · 47 POINTS
14. PETRILLA JAIME BARREIRO 63 POINTS
15. CEA MANOR IAGO CARBALLO 77 POINTS
16. LUXOCONF JEAN CLAUDE SARRADE 78 POINTS
17. MIUDO IGNACIO SALGUEIRO 81 POINTS
18. MONDO BERNARDO MACEDO 95 POINTS