The Terras Gauda National Sailing Awards recognize Jordi Xammar and Nico Rodríguez as the best Olympic team for the second consecutive year
· The bronze that the team made up of the Catalan and the Galician achieved at the Tokyo 2020 Olympic Games has made them worthy of this new award
The athletes will go to Baiona on September 4 to collect the award and be honored at the gala organized by the Monte Real Yacht Club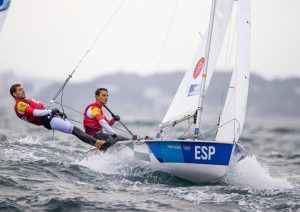 Their youth, their effort and their enthusiasm predicted that the Terras Gauda National Sailing Award they received last year would not be the only one of their sports career, but possibly they themselves could not have imagined being able to repeat it so soon.
The Catalan Jordi Xammar (Barcelona, 1993) and the Galician Nico Rodríguez (Vigo, 1991) will receive a new National Sailing Award for the best Olympic team on September 4 at the Monte Real Club de Yates (Galicia).
The bronze medal that the men's 470m crew achieved at the Tokyo 2020 Olympic Games has made them worthy of the prestigious distinction for the second consecutive year, and both will be in Baiona to collect the award and receive tribute from the public.
Because the truth is that these young sailors do nothing but collect applause and admiration throughout the country, not only for their continuous chain of successes but also for their indisputable charisma.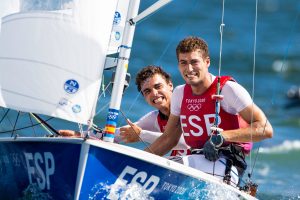 In the last 5 years of preparation for the Olympics, they have been the most regular of the Spanish squad, managing to get on the podium of all the world and European championships played since 2017. They got the bronze in the 2017 European Championship and in the 2018 World Cup; silver at the 2019 European and World Championships, and bronze and silver at the 2021 World and European Championships.
Trained by Gideon Kliger and Juan María de la Fuente, they arrived in Japan at the top of the world ranking and turned Enoshima into their litmus test. The Japanese bronze medal was the perfect culmination of all the years of effort of a duo that destiny brought together in 2016, years after having met for the first time when both were sailing in Optimist.
Since their farewell to Tokyo through the front door and their entry into Spanish Olympic history, they have been deserving of multiple recognitions and expressions of admiration wherever they have passed.
In Baiona they will surely repeat applause and ovations. They received them a year ago when they collected their first Terras Gauda National Sailing Award and they will receive them, without a doubt, on September 4, at a gala to which both have already confirmed their attendance.