· The award given within the framework of the Terras Gauda National Sailing Awards recognizes the work carried out by the Royal Spanish Sailing Federation to give visibility to the national team that competed in Tokyo 2020
· Designed and executed under the command of Helena de la Gándara, the project allowed the Spanish and international audience to get to know the athletes displaced to Enoshima through careful and attractive content
· The dissemination of the values of the sport of sailing and of the Spain brand both inside and outside our borders were other aspects valued when awarding the Mariano Aguado Communication Award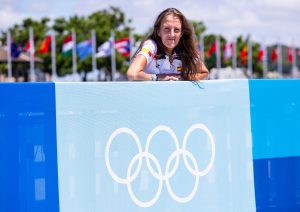 The communication project of the Spanish Olympic sailing team has been distinguished with the Mariano Aguado Communication Award, a specific award for the information sector that is given within the framework of the Terras Gauda National Sailing Awards.
Designed and executed under the command of Helena de la Gándara, the project allowed the Spanish and international audience to get to know, in a simple, direct and accessible way, the athletes of the Spanish team who traveled to Enoshima to participate in the Olympics.
Through multiple resources, on numerous platforms and with very careful and attractive content, the Royal Spanish Sailing Federation managed to significantly increase the visibility of the fleet that competed in Tokyo 2020, while at the same time spreading the values of sailing among the public. sailing sport and the Spain brand, both inside and outside our borders.
All these aspects were what made this project worthy of the Mariano Aguado Communication Award, which Helena de la Gándara (RFEV, The Ocean Race, Vendée Globe, Barcelona World Race, America's Cup) will collect on September 4 at Monte Royal Yacht Club of Baiona, at the Terras Gauda National Sailing Awards gala.
"It is a great honor to recognize the enormous effort that has been made over the last two years – declared Helena de la Gándara- for bringing a project like this to fruition, whose purpose has been none other than to give greater visibility and promotion of the sport of sailing and its athletes. This award is the best icing on the cake we could imagine. Thank you from the bottom of my heart on behalf of all of us who have formed this team".