· The Monte Real Club de Yates organizes a new edition of the competition with the collaboration of the Real Club Náutico de Vigo and the sponsorship of the visual communication company Comunica
· The 40 boats that aspire to win the laurels will take the start in front of the Vigo nautical this Saturday at two in the afternoon heading to the bay of Baiona where the awards ceremony will be held for the winners
· The 15-mile test, in which some 200 sailors participate, can be seen from many points along the coast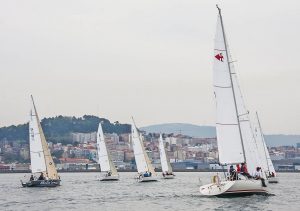 40 boats will compete this Saturday in a new edition of the Comunica Trophy, organized by the Monte Real Club de Yates with the collaboration of the Real Club Náutico de Vigo and the sponsorship of the visual communication company Comunica.
Among the crews that aspire to take the laurels of the ORC class we will see the Yess Too of the Portuguese Rui Ramada, the Aceites Abril of the Ourenses Luis and Jorge Pérez Canal, the Pairo Marnatura skippered by Luis Bugallo, the Magical of Julio Rodríguez or Al Balea Dous by Luis Pérez.
This year, as a novelty, there is also a trophy for the ORC A2 category, for sailboats with a skipper and a single crew member, in which some nautical couples have registered, such as those made up of Jacobo Vecino and Brenda Maure aboard the Salaño Dos ; or Javier Rey and Jorge Justo, in the Q Talent Consultants.
The Luxoconf by Jean Claude Sarrade, the SND Cormorán by Francisco Martínez, the Ifaclinic by Joao Allen, La Galera by Miguel Fernandez and the Pazo de Cea by Iago Carballo are some of the J80s that will compete for victory in this class of one-designs, which it will not be the only one, as there will also be a category for the Figaro Beneteau.
The latter will be sailed by the crews led by Teresa Valladares, aboard the Ladeira; or Javier Bernardez in the Bouvento.
In the absence of the deadline for registration, which will remain open until one hour before the start of the competition, there are already nearly 200 sailors who will leave Vigo this Saturday at two in the afternoon for Baiona for the final victory .
They will have a route of about 15 miles ahead of them with several steps through beacons for which the weather forecast announces winds from the south southwest with an average of 8 knots and peaks of up to 18, which could be even more intense given the probability that record showers at times.
Once the competition is over, the Monte Real Club de Yates will host the awards ceremony for the winners, in which the president of the Baiona club, José Luis Álvarez; the executive director of Comunica, Roberto Lira; the mayor of Baiona, Carlos Gómez; and the deputy for sports from the Pontevedra Provincial Council, Gorka Gómez.