· The J80 of the Portuguese Manel Marías is at the head of the one-design classification followed by the Luna Nueva de Tuero and the Cansino de Yáñez
· The second day of the league will be held this Saturday in the bay of Baiona starting at three in the afternoon with three tests in the competition program
The J80 Marías of the Portuguese Manel Marías leads the second day of the Baitra Winter League, which will be held this Saturday in the bay of Baiona starting at three in the afternoon, with three tests on the competition programme.
The sailboat, manned by the Portuguese sailors Tiago Morais, Marta Ramada, Vasco Tinoco and Antonio Marías, managed to win the first round of the Monte Real Club de Yates one-design league, which was held at the end of February.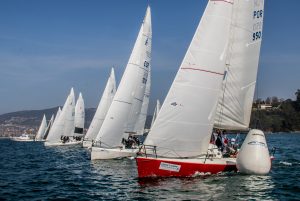 He did it after winning the only test that could be played due to the wind, which did not blow strongly enough. The same is not expected to happen this weekend, in which the forecasts announce winds above ten knots reaching peaks of twenty at times.
Luna Nueva by Juan Luis Tuero is in second place in the provisional classification, followed, from bronze, by Cansino by Fernando Yáñez. Javier de la Gándara's Okofen and Santiago Estévez's Spaco complete the Top 5 after opening the markers.
BAITRA J80 WINTER LEAGUE MONTE REAL YACHT CLUB
Classification after the first day held on February 27
1. MARÍAS · MANUEL MARÍAS · 1 POINT
2. NEW MOON JUAN LUIS TUERO 2 POINTS
3. TIRED · FERNANDO YÁÑEZ · 3 POINTS
4. OKOFEN · JAVIER DE LA GANDARA · 4 POINTS
5. SPACO SANTIAGO ESTÉVEZ 5 POINTS
6. DUE · RAFAEL BLANCO · 6 POINTS
7. NAMASTE · LUIS DE MIRA · 7 POINTS
8. SDN CORMORÁN · FRANCISCO J. MARTÍNEZ · 8 POINTS
9. MAIJA · JOSE LUIS PÉREZ · 9 POINTS
10. PETRILLA JAIME BARREIRO 10 POINTS
11. LA GALERA · MIGUEL FERNÁNDEZ · 11 POINTS
12. ALBOROTO · JUAN CARLOS AMENEIRO · 12 POINTS
13. CEA MANOR IAGO CARBALLO 13 POINTS
14. FERRALEMES · JAIME GARCIA · 14 POINTS
15. MIUDO IGNACIO SALGUEIRO 18 POINTS