· This Saturday the second day of the one-design championship organized by the Monte Real Club de Yates will be held in Baiona
Javier de la Gándara's Okofen leads the standings followed by Portuguese Manel Cunha's Marías and Alejandra Suárez's Cansino from Vigo
· The regattas will begin at three in the afternoon in the bay of Baiona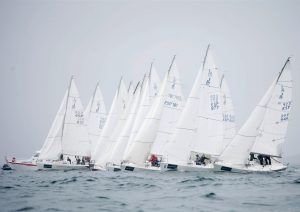 This Saturday the regattas return to Baiona thanks to the AEDAS Homes J80 Autumn League, which will live its second day starting at three in the afternoon in the waters of the bay. The Galician fleet of 8 meter monodesigns will face, if the weather permits, three new tests that will continue to define the classification of the championship organized by the Monte Real Club de Yates.
With three victories in the three races played on the first day, Javier de la Gándara placed his Okofen, with 3 points, at the top of the provisional classification. With 7 points, he is followed, in second position, by the young Portuguese Manel Cunha's Marías, another of the prominent names among the J80 fleet and one of those who will give the most trouble, for sure, to achieve the final victory.
Closing the provisional podium in third position, with 12 points, we find El Cansino skippered by Alejandra Suárez, one of the women who is giving the most impetus to the women's section of the J80 fleet, since just a few days ago she managed, also on board of an 8 meters, the silver medal in the final of the National Women's Sailing League.
Except for last minute changes, the forecast for the sailing day is quite good. Winds from the southwest of between 9 and 10 knots with peaks of up to 12 are expected, which initially should allow the three scheduled races to be held.
They will be, as usual, windward leeward double lap courses and, if they are completed successfully, the participants will have the option of discarding their worst result, which could leave surprises in the classification.
AEDAS HOMES J80 FALL LEAGUE
Classification after the first day
1. OKOFEN · JAVIER DE LA GANDARA · MRCYB · 3 POINTS
2. MARÍAS MANEL CUNHA MRCYB 7 POINTS
3. TIRED · ALEJANDRA SUÁREZ · MRCYB · 12 POINTS
4. LA GALERA · MIGUEL FERNÁNDEZ VASCO · RCN CORUÑA · 13 POINTS
5. MONDO BERNARDO MACEDO MRCYB 15 POINTS
………………………. UP TO 20 CLASSIFIED