· The Okofen, skippered by Javier de la Gándara, aspiring to defend the title, was placed this Saturday as leader of the J80 Winter League that takes place in Baiona
· After the second round of the one-design competition organized by Monte Real, El Cansino and El Alboroto are second and third respectively
· The next appointment with the winter championship of J80 will be next March 7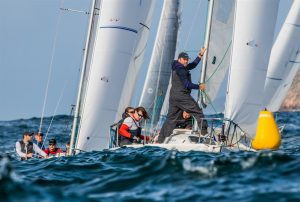 The Okofen skippered by Javier de la Gándara, aspiring to revalidate the title of the competition, this Saturday was placed leader of the J80 Winter League of the Monte Real Club de Yates. He did so after signing almost a plenary session with two first places in the three races held during what was the second of the five rounds scheduled in the one-design winter league.
The Okofen was, without a doubt, the best in the fleet, and she got rid of the thorn of the first day, in which she had had to settle for second place behind Javier Aguado's Alboroto . On this occasion, De la Gándara's men not only took the lead, but once again demonstrated their power, taking a difference of up to 3 minutes from their rivals in some tests.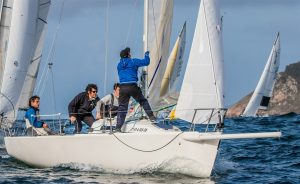 This was the case in the first heat this Saturday, in which they crossed the finish line well ahead of Juan Pazó's Ay Carmela , from the Liceo Marítimo de Bouzas, who came second; and Cansino de Nano Yáñez, who finished third.
In the second test, which was somewhat tighter, Okofen repeated victory. The crew of the Due , led by Fernando González, from the Real Club Náutico de Portosín; and Luis de Mira's Namasté , from Monte Real, were second and third respectively.
The regatta committee, chaired by Víctor Robleda, began a third test, but a significant drop in the wind forced it to be shortened halfway through. In what was the last heat of the day, Namasté was the winner, followed by Okofen and Alboroto .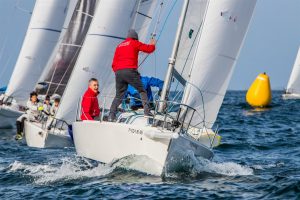 Thus the things, with the three scoring tests of this second day added to the two of the first day the Javier de la Gándara's Okofen is placed, with 7 points, in first position, snatching the lead from Uproar by Javier Aguado, who this Saturday was skippered by his owner Juan Carlos Ameneiro, and who is third overall with 26 points. The provisional silver goes to Cansino de Nano Yáñez, with 24 points, 17 behind the leader.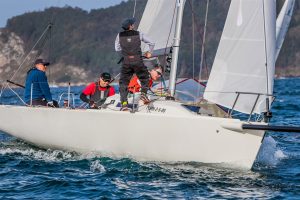 The next appointment with the J80 Winter League is next Saturday, March 7. Previously, Monte Real will host the celebration of the 50th Optimist Galician Championship – Baitra Trophy, which will be held between Saturday 22 and Monday 24.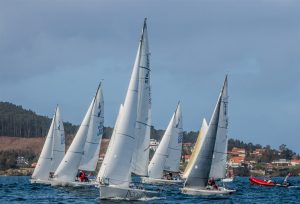 J80 WINTER LEAGUE MRCYB GENERAL CLASSIFICATION TOP 5
OKOFEN · JAVIER DE LA GANDARA · 7 POINTS
TIRED · FERNANDO YÁÑEZ · 24 POINTS
ALBOROTO JUAN AMENEIRO 26 POINTS
MAIJA JOSÉ LUIS PÉREZ 27 POINTS
NAMASTE · LUIS DE MIRA · 32 POINTS