· The club will collaborate in the "Journey of the Cross of Lampedusa", a symbol of the migrant drama, which will make a stop in Baiona on its pilgrimage from Vigo to Tui
· The large cross made with wood from shipwrecked canoes off the coast of Italy was blessed by Pope Francis in 2014
· Next Friday it will arrive in Baiona aboard a Maritime Rescue vessel with the aim of transmitting a message of solidarity
The Monte Real Club de Yates will join this Friday in the tribute to the migrants who died at sea by collaborating with the pilgrimage of the Cross of Lampedusa, a symbol of the immigration drama. After almost 7 years of traveling around the world, the cross will arrive in Baiona from Vigo to later continue its pilgrimage to Tui.
The Cross of Lampedusa is a piece made by the carpenter Francesco Tuccio with wood from shipwrecked canoes off the Italian coast, in which thousands of immigrants have died in their attempt to find a better life.
More than eight feet tall, five feet wide and weighing about 130 pounds, the cross was blessed by Pope Francis in 2014, not long after a migrant boat capsized off the island of Lampedusa. , leaving 366 dead.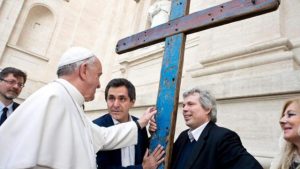 It was the pontiff himself who asked to make it a symbol of the tragedy of migrants and transmitter of a message of peace and solidarity throughout the world, and since then the cross has made a pilgrimage to many places.
The "Journey of the Cross of Lampedusa" , as this pilgrimage was called, arrives this Friday at 1:00 p.m. in Baiona aboard a Maritime Rescue vessel.