· The Spanish team that competes in the SailGP aboard the F50 Victoria catamaran is the youngest in the championship, the one with more Olympic athletes in its crew and the only one managed by a woman
· The award granted to them aims to recognize the boost they have given to the Spanish nautical scene by managing to include a national team in the championship and also ensuring that the competition lands in Spain
· Spain SailGP Team will receive the Terras Gauda National Sailing Award for the innovative team and project at a gala to be held in September at the Monte Real Club de Yates in Baiona (Galicia)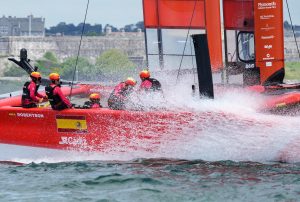 They are the youngest in the competition, the only ones to have a woman as CEO and the crew with the most Olympic athletes on board. This is, broadly speaking, the Spain SailGP Team, the Spanish team that competes in the SailGP aboard the F50 Victoria catamaran and that next September will receive the Terras Gauda National Sailing Award for the team and project in Baiona (Galicia). innovative.
In its ranks we find some of the most outstanding Spanish sailors of today. Eight men and two women with experience in the main international sailing competitions, such as the Olympic Games, The Ocean Race or the Youth's America's Cup. They are Jordi Xammar (rod), Phil Robertson (rod), Florian Trittel (mainsail trimmer), Diego Botin (flight controller), Mateu Barber (grinder), Joan Cardona (grinder), Ñeti Cuervas-Mons (grinder), Lucas Trittel (grinder), Tara Pacheco and Andrea Emone, the two women who have joined the «Women Pathway Program» created by SailGP for women.
At the head of all of them, the director of the team María del Mar de Ros, the only woman with a position of maximum leadership in the prestigious world competition. She will be the one in charge of collecting the award on the night of September 4 at the Monte Real Club de Yates, where in 2017 they received their first national award for another great project, the Spanish Impulse Team of the Red Bull Youth America's Cup.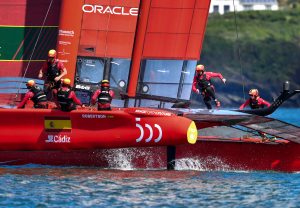 The Terras Gauda National Sailing Award for the team and innovative project aims to recognize the boost that the Spain SailGP Team has given to the Spanish nautical scene, not only for having managed to include a national team in this high-performance regatta, but also for having that the competition ends in Cádiz on October 9 and 10.
The second season of SailGP that is currently being held started last April in Bermuda and will end in March 2022 in San Francisco (USA). After passing through Plymouth (United Kingdom), Aarhus (Denmark) and Saint-Tropez (France), and before calling at Sydney (Australia), Christchurch (New Zealand) and San Francisco (USA), the competition will stop in Cadiz (October 9 and 10).
There, coinciding with the Puente de la Hispanidad and as part of the commemoration of the V Centenary of the First Voyage Around the World by Magellan and Elcano, we will be able to see what are considered the fastest ships on the planet, capable of exceeding speeds of 50 knots (100 km/ h). There will be two days of competition with three fast races that will add points towards the final victory, which will give the winning team a prize of 1 million dollars.